CNS Stands With Putin, Against America in Trashing Biden After Summit
Topic: CNSNews.com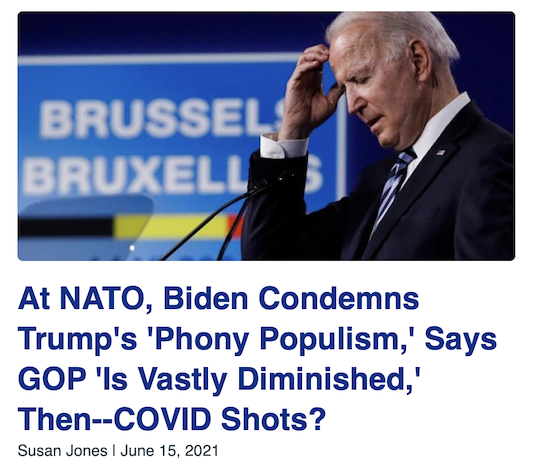 CNSNews.com has an anti-American streak whenever a Democrat is president -- so much so that it seems to take the side of America's adversaries during those years. It took the side of Russian leader Vladimir Putin against President Biden earlier this year, and it did so again during the Biden-Putin summit in Geneva in June.
In a June 10 article, Patrick Goodenough -- who wrote much of that pro-Putin coverage and is still carrying a torch for Donald Trump -- uncritically touted Putin's attacks on Ukraine's desire to join NATO. On June 14, Susan Jones seemed to be complaining that Biden wouldn't hold a joint press conference with Putin the way Trump did with Putin at a 2018 summit. The same day, Jones promoted a separate interview with Putin in which he claimed China was not a threat to his country. Also that same day, Melanie Arter did an article on Biden discussing Putin that surprisingly did not make Biden look like a senile idiot as CNS is wont to do (though that would come later).
June 15 started with a Pat Buchanan column in which he suggested that Biden wouldn't do a joint presser because he was "afraid" of Putin, followed by an article by Goodenough criticizing Biden for being noncommital about Ukraine's entry into NATO. Then it was time for Jones to cast aspersions on Biden's congitive capacity, illustrated by a photo of an apparently confused-looking Biden:
At a news conference following his meetings at NATO, a Washington Post reporter asked President Joe Biden what he would say to allies who are "pretty rattled by what happened on January 6th" and "may still be alarmed by the continued hold that Donald Trump has over the Republican Party and the rise of nationalist figures like him around the world."

The reporter wondered if promises Biden makes to U.S. allies will be kept by the next president.

"What I'm saying is -- to them, is watch me," Biden said -- beginning a long and rambling reply that touched on American leadership, a "diminished" Republican Party, Trump's "phony populism," the failure of Republicans to vote for a January 6 commission, and even COVID vaccinations.
Trump gave many long and rambling replies to questions, but we're willing to bet that Jones never suggested he was in "cognitive decline."
On June 16, Goodenough complained that "President Biden's much-anticipated summit with Russian President Vladimir Putin could go on for four or five hours, but there are no plans for a working meal," then gave space to former Trump secretary of state Mike Pompeo to do some Biden-bashing. Jones then devoted an entire article to Pompeo's Biden-bashing. Another Jones article noted Hillary Clinton pointing out that Putin interfered in the 2016 presidential election in a way that helped Trump get elected, but framed it as her "still blaming Russia."
Goodenough served up another article grumbling that "the controversial issue of the Nord Stream 2 pipeline appeared to be off the agenda, in public at least"; Goodenough didn't mention that Trump failed to stop the Germany-to-Russia gas pipeline project when he had the chance as president.It was left to Arter to serve up two articles on Biden's responses to questions that managed not to be biased. And as we've already noted, editor Terry Jeffrey played word police, accusing Biden of not using the word "Creator" when he otherwise ably explained the Declaration of Independence to Putin.
Goodenough dutifully repeated Putin's side of the summit in a June 17 article, under the insulting headline "Putin Says He Felt 'No Pressure' in His Talks With Biden – Who Spoke About His Mother." He also included Russian chess champion Garry Kasparov bashing Biden for elevating Putin (even though the tone of CNS' summit coverage has been all about elevating Putin). This was followed by numerous articles featuring Republican attacks on Biden, including an attack from Goodenough's (and CNS') favorite former president:
By contrast, CNS published only two articles defending Biden after the summit. The first was a piece by Goodenough noting national security adviser Jake Sullivan supporting Biden, which eventually devolved into anti-Biden attacks, and the second was a piece by Arter quoting White House press secretary Jen Psaki, which also concluded with anti-Biden criticism.
Posted by Terry K. at 1:32 AM EDT
Updated: Friday, July 30, 2021 9:43 PM EDT