CNS Appears To Take Putin's Side Against Biden
Topic: CNSNews.com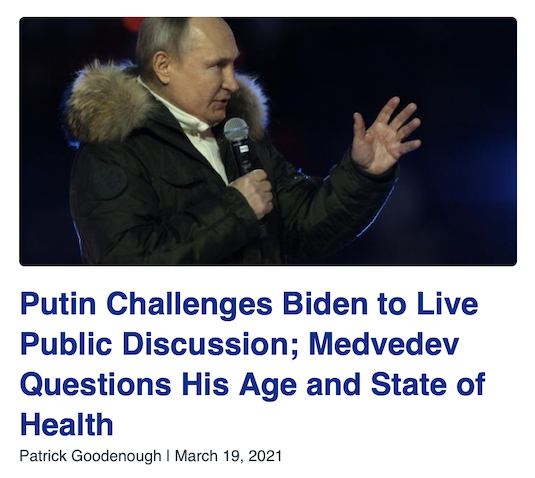 It's disturbing when a "news" operation appears to be taking the side of a foreign country against the president of the United States, but that's what CNSNews.com appears to have done.
In March, President Biden referred to Russian President Vladimir Putin as a "killer" in reference to a poisoning attempt on Putin critic Alexei Navalny. CNS didn't do a story on that, but a March 18 article by Dimitri Simes hyped Putin's response that "it takes one to know one," going on to call the exchange "a serious diplomatic row" that Biden created.
The next day, CNS reporter Patrick Goodenough sounded like he was writing for Russian state media than a U.S. "news" outlet:
Russian President Vladimir Putin has challenged President Biden to take part in an urgent livestreamed dialogue amid a diplomatic chill following Biden's portrayal of the Russian president as a "killer."

Putin says he's available on Friday or Monday, although the White House gave no indication it was interested in taking up the invitation.

Meanwhile Dmitry Medvedev, who as Russian president had dealings with then-Vice President Biden during the Obama administration, suggested that the remark which sparked the spat could be attributed to Biden's age and state of health.

Asked during an ABC News interview aired on Wednesday if he thought Putin was a killer, Biden replied, "I do."

Fallout over the comment, accompanied by a declassified U.S. intelligence assessment that Putin had authorized "influence operations" to undermine Biden's presidential campaign, has already seen Moscow recall its ambassador for consultations.

[...]

Meanwhile, Russian media quoted Medvedev, who served as president from 2008-2012, as telling reporters, "I met with incumbent U.S. President Joe Biden at various international events. He gave the impression of a reasonable person then."

"However, it seems that time hasn't been kind to him," he said.

Medvedev, who now chairs the Russian Security Council, added, "I can only quote Freud: 'Nothing in life is more expensive than illness and stupidity.'"
Goodenough omitted mention of Navalny, thus taking Biden's "killer" comment out of context -- an assessment even the conservative Heritiage Foundation agrees with.
The same day, CNS pubiished a column by Pat Buchanan -- whose 1996 presidential campaign CNS editor Terry Jeffrey managed -- complaining about the comparison: "What is Biden doing? Do we not have enough enemies? Does he not have enough problems on his plate?"
Also on March 19, CNS managing editor Michael W. Chapman touted his favorite evangelical, Franklin Graham, bizarrely playing whataboutism over the exchange by invoking the abortion card:
After President Joe Biden said on Wednesday that Russian President Vladimir Putin is a "killer," Rev. Franklin Graham, son of the late Pastor Billy Graham, noted that President Biden and his administration support abortion, the "killing of the innocent," and that since Jan. 1 "more than 185,000 babies have been murdered through abortion in this country."

"We will be held accountable by God," said Rev. Graham.
CNS published another column by Buchanan on March 23 in which he complained that "Biden is himself responsible for the poisoned relations with Russia, after telling ABC that, yes, Vladimir Putin is "a killer" whom he once told to his face that he had no 'soul.'"
That same day, Goodenough wrote an article suggesting the Biden remark was pushing Russia toward Chinabecause it caused an "an uptick in U.S.-Russia tensions," and he uncritically quoted Russian officials accusing the U.S. of standing in the way of the "rise of a truly multipolar democratic world." Goodenough didn't mention that Russia is not a democracy.
It's just not a good look for CNS to take Russia's side against Biden.
Posted by Terry K. at 12:23 AM EDT