Newsmax Still Sending Conflicting Messages On COVID Vaccine
Topic: Newsmax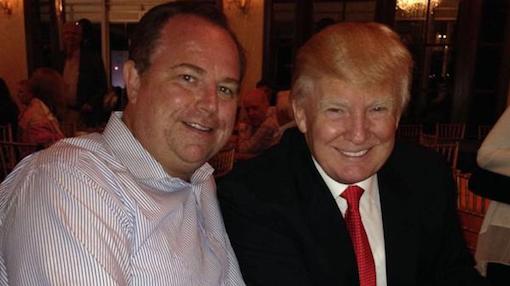 Newsmax has gotten itself into a spot of bother as COVID-19 vaccine hestitancy has grown among conservatives -- and particularly among people who watch Newsmax. A recent survey found that viewers of Newsmax and One America News are twice as likely to refuse the vaccine than even Fox News viewers. For months, Newsmax has been trying to walk the line of serving anti-vaccine clickbait to its core audience while trying not to be too irresponsible about -- hence, all those "the author is a non-clinician" disclaimers on columnists spreading COVID conspiracy theories.
Still, more aggressive walkbacks were needed. When Newsmax TV host Rob Schmitt declared that vaccinations are "just generally kind of going against nature" and "stand in the way" of the circle of life "where something's supposed to wipe out a certain amount of people," it didn't go over well -- to the point that Newsmax had to issue a statement backing away from his claim and in support of vaccines: "Newsmax as a network strongly supports President Biden's efforts to widely distribute the covid vaccine. It is important for the safety of all and especially those at high risk, such as the elderly."
This was followed by a July 20 column by Newsmax CEO Christopher Ruddy, in which he even more heartily endorsed COVID vaccines (while staying true to his operation's right-wing slant by framing them as a Trump achievement that Biden had managed not to screw up):
As a journalist, I believe in giving credit where it's due.

Six months into his administration, President Joe Biden should be applauded for making a huge dent in the COVID pandemic.

He inherited an effective vaccine from President Donald Trump, took it into his arms, and ran with it.

The success of this approach has been obvious. Serious deaths and hospitalizations (the most important COVID data) have collapsed.

[...]

So far, Biden's success as president is all about COVID – not only with the vaccine, but also his push for ample and popular stimulus packages.

His success is also about Donald Trump.

Biden could have distanced himself from the vaccine since his political nemesis had been key for its creation.

Instead, Biden did the right thing and embraced Trump's work – and built upon it to the betterment of the country. He also benefited politically.

When we have witnessed Biden fumble, it usually has to do with him rejecting Trump's work.
The rest of Newsmax is still not on board with that message, though. A July 26 article by Jack Gournell complained that the death from COVID of a man -- an apparent conservative -- who opposed vaccines was getting too much media attention:
Stephen Harmon, a 34-year-old California man who didn't believe in vaccines, died of COVID-19 complications last week. His death — and his social media posts mocking vaccinations — were reported by local and national news outlets.

Harmon, who wasn't famous, was a member of a Hillsong church in California. The global church counts celebrities including singer Justin Bieber among its members, but has not taken a stand for or against vaccines.

The Associated Press reported in its opening sentence that Harmon "mocked COVID-19 vaccinations" and had "died this week at a Los Angeles-area hospital after contracting the virus."
A column the same day by Tom Borelli demanded that Anthony Fauci be fired because he wasn't sucking up to conservatives in a way that would make them want to get vaccinated:
Many Americans, especially conservatives, have "Fauci Fatigue."

His numerous TV interviews with too many conflicting statements over the past year and a half has eroded his credibility.

Moreover, Fauci's sales pitch to get vaccinated is a turnoff to conservatives.

On MSNBC, Fauci interpreted the personal decision to avoid getting vaccinated is based on politics and said, "Get over it. Get over this political statement. Just get over it and try and save the lives of yourself and your family."

Scolding conservatives for not obeying his view is a sure way to get the opposite response.

The recent exchange between Fauci and Senator Rand Paul, R-Ky., over the definition of gain-of-function research and Fauci's role in funding the Wuhan Institute of Virology during a Senate hearing will only further alienate conservatives.

[...]

To summarize, increasing numbers of Americans don't trust the government or the science. Logically, that makes Fauci - a government scientist - the worst person to convince individuals to get vaccinated.
But conservatives have never trusted government or science. It's not Fauci's responsibility to change it -- it's the responsibility of conservatives like Borelli. So what has he done to encourage his fellow right-wingers to get vaccinated? He doesn't say, nor does he say whether he himself has been vaccinated.
Posted by Terry K. at 8:31 PM EDT