Homophobic WND Columnist Smears LGBT People As 'Predators Of Children'
Topic: WorldNetDaily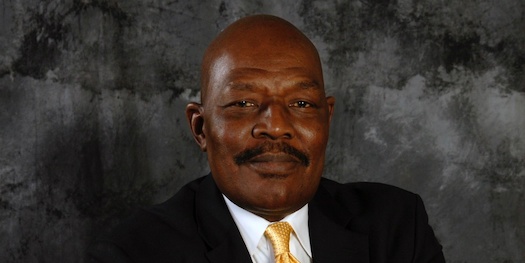 Mychal Massie hates LGBT people, so it's so surprise to see him serve up another homophobic frekout in his June 15 WorldNetDaily column:
Our children are not safe. They are the prey of reprobate sodomitic predators who are encouraged and supported in their demonic deviancy from the White House to the preschool classroom. And let there be no doubt about it: There is nothing normative about the conversion of children into anti-God sexual trinkets for perverts.

Dr. Michael Brown spoke well when he wrote:"… the homosexual movement could not grow by reproduction, it had to grow by seduction. … The homosexual movement cannot grow by biological replication, so instead, it puts its emphasis on ideological indoctrination."

And therein lies most of the reason for sexual cannibalization of the minds of our young.

This is not by accident; it is by design. It is part of a well designed, carefully orchestrated and successfully implemented satanic attack against the family. The plan has been successful to date because the demonic legislatures, rumored-to-be-participatory jurists and child-molesting, pro-homosexual presidents. Hollywood and television has made what should be viewed as criminal and/or mentally ill fashionable.

[...]

Along with other groups and churches, I have been warning parents about the homosexual plan to use vile behavioral-modification tactics and their alphabet moniker horror groups to subvert the classroom environment.

The leaders of these alphabet homosexual groups are morally opprobrious and bankrupt of any measurable semblance of truth. In brief they are pernicious liars and of the highest order. It never fails that whenever I write exposing the threat to family and children these groups pose, their minions claim I am lying. But that is because they have no choice. I place my record of being right beside their record of being liars any time and anywhere.

[...]

I contend, and nothing dissuades me, that the real reasons sexual deviants are forcing sexual deviance upon children in Kindergarten through fifth grade is because the sexual deviancy they practice is not normal, neither is it genetic. Ergo, they must continually find ways to replenish their kind. If they do not desensitize young children to the abnormality and ungodliness of this perversion by the time untainted children are adults, they will reject personal participation in this deviant sexual practice.
As far as Massie's "record of being right" goes, we'll just note that being right is not something he's known for.
As he has before, Massie invoked something called the "Gay Manifesto" (which he continues to insist on calling the "Homosexual Manifesto"), treating the satirical piece as utterly serious and getting that wrong too, whining that the author "and his perverts claimed his manifesto was just a humorous joke and everyone understood that except Christians. Fast forward to the zeitgeist of today, and it is apparent many are not laughing at abhorrent filth being forced upon our children."
Massie kept up the hate in a July 5 column that started out much the same way, with added complaining that his homophobia was being called out:
Let me be clear. Despite every lie you have heard and/or believed, there's nothing normal nor natural about the sexually deviant practice of homosexuality. The so-called "lgbtq" assemblage of sexual amoral deviancy is as unnatural, unhealthy and abnormal as an unemptied chamber pot at the kitchen table.

I've been ahead of the curve in warning about the social decline in America; and with every warning came assertions by demonic minions mocking me and calling me names.

May 30, 2013, a front group for People for the America Way called Media Matters, both of which are neo-Leninist groups committed to subversion of all truth and morality through demonic agitprop and intimidation, lashed out at me. Satan had to do his best to downplay my truth, and as usual he chose them to attempt same. I'd written in a syndicated op-ed, "Let the homosexuals have the Boy Scouts."
That column was his usual unhinged reaction to the Boy Scouts allowing openly gay youth to join the group, in which he asserted that boys would be "coerced into homosexual behavior" because of their "hormones." We'd also argue that Media Matters has a much better record of telling the truth than Massie does. (Note: We used to work for Media Matters.) He continued to rant:
I, along with others, have warned parents (and America) that demonic godless hordes were hell-bent and determined to destroy the biblical standard for family, marriage and child-rearing. I warned that each encroachment into society was a strategical act to advance their goal of destroying the biblical standard for family and propriety.

I'm right – and those attacking me are fools. These pernicious calumniators have maligned my cautions and warnings, but I've been as right as rain. Today we have Kellogg's cereals promoting homosexuality on the most grotesque and abdominal levels heretofore conceived to those most vulnerable.

[...]

I don't give a rat's behind what people call me, as long as I am speaking the truth. My position may be as unpopular as Christians protesting abortion, but what I've said is unimpeachable truth. And that doesn't change because the devil's minions call it untrue.
Massie is a hater and a liar, not a truth-teller. And that's the unimpeachable truth.
Posted by Terry K. at 5:29 PM EDT