CNS Thinks A Biased, Manufactured GOP Hearing Is 'News'
Topic: CNSNews.com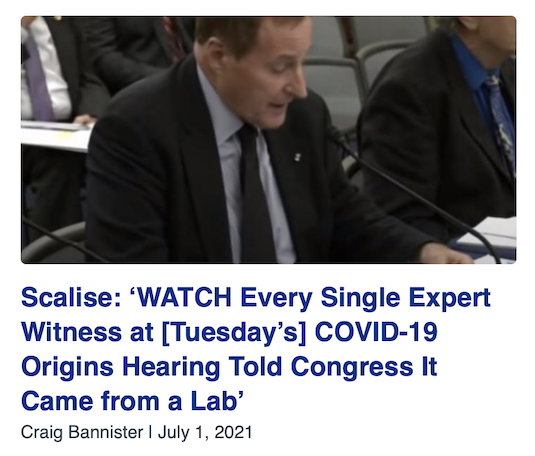 Craig Bannister gushed in a July 1 CNSNews.com article:
"Will the media and Big Tech be apologizing" to people who said the coronavirus originated in a lab, House Minority Whip Steve Scalise (R-La.) asked Wednesday, posting a video montage of doctors saying that it did.

On Tuesday, House Republicans held a hearing investigating the origins of coronavirus, where "every single expert witness" concluded that the coronavirus came from a laboratory, rather than from natural causes, Scalise tweeted, introducing the video:

"WATCH → Every single expert witness at yesterday's COVID-19 origins hearing told Congress it came from a lab. Will the media and Big Tech be apologizing for calling people conspiracy theorists for saying that?"
Bannister is not interested in actual reporting, so he avoided any mention of the obvious: the reason "every single expert witness" at the hearing made that same claim is because they would not have been allowed to testify by Scalise if that was not their conclusion. All the witnesses were specifically chosen to forward that Republican talking point.
It was something of a kangaroo court of a hearing with predetermined evidence and a predetermined outcome; even the right-wing New York Post admitted that no Democrats were allowed to take part and that not even Anthony Fauci would testify.
It was a partisan political exercise, not a legitimate effort to learn anything. Because CNS is on the side of those political partisans, Bannister won't admit that inconvenient fact.
Posted by Terry K. at 12:24 AM EDT