Jack Cashill's Gallery of Rogues
The WorldNetDaily columnist finds more dubious people to defend: a felon and conman, a terrorist, an alleged blackmailing governor -- and George Zimmerman (again).
By Terry Krepel
Posted 5/23/2018
---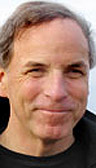 Jack Cashill
WorldNetDaily columnist Jack Cashill has already racked up an impressive list of rogues to which he has devoted a defense. He's particularly fond of murderers -- he defended not one but two killers of abortion doctors, a Navy recruit who killed a gay man from whom he accepted money to perform oral sex, and the man who bombed an abortion clinic and the 1996 Olympics in Atlanta, killing two.

Cashill has a particular fondness for George Zimmerman, the man who shot and killed black teenager Trayvon Martin. Cashill tried to cash in on the situation by writing a WND-published book that endeavored to portray Zimmerman as a civil-rights martyr and Martin as a scary black thug.

Apparently, Cashill hasn't had enough dubious folks to defend lately, so he has spent the past couple months compiling a new cast of rogues to receive the Cashill treatment. Oh, and George Zimmerman (again).
The felon and conman
Cashill used the Stormy Daniels scandal to spend his March 21 WND column rehashing one of the most completely unbelievable claims of the Obama years: that Larry Sinclair once slept with Barack Obama. He wrote:
The "allegations/statements" Sinclair refers to are those he himself made at a press conference at the National Press Club in June 2008.

Sinclair began the 2008 conference by detailing his past criminal history, his convictions largely involving check fraud. "But I am also an American citizen," he noted.

Sinclair then told a very detailed story and included the names of all involved, the dates, the hotel, even some phone numbers.

As the story goes, and he told it very convincingly, Sinclair came to Chicago in November 1999 to attend his godson's graduation.

He asked his limo driver, name provided, if he could recommend someone with whom he could "socialize" while in Chicago.

The driver recommended Obama by name. When Obama showed up, he introduced himself as "Barack Obama."

Together they smoked crack and Sinclair performed fellatio on Obama. The next day Obama showed up at Sinclair's hotel, and they repeated the ritual.
In reality, Sinclair was not convincing at all. As one attendee at that press conference noted, Sinclair provided no evidence to back up his claims other than "a few phone numbers — registered under different names and in different states — that Mr. Sinclair claimed he used to call, variously, a limousine driver, the deceased choir director of Trinity United Church of Christ, and others." (And we haven't even gotten to Sinclair's kilt-wearing lawyer.)
Cashill went on to complain that "Politico, whose 'most read' story this week concerned Stormy Daniels's alleged affair with Donald Trump 12 years ago, headlined its account of the Sinclair press conference, 'Obama accuser has long rap sheet.'" It's telling that Cashill didn't link to that article -- it was written as a preview of Sinclair's presser, not a summary -- or give his readers any detail about that lengthy rap sheet, which includes a 16-year jail sentence for forgery, as well as other deceit-related crimes.
Being the inveterate conspiracy-monger he is, Cashill can't stop peddling the never-substantiated claim that Donald Young, a member of the church Obama attended in Chicago who was later murdered, also slept with Obama, insisting that many people, "including Young's mother, believe Young was murdered to protect Obama's reputation."
Despite Sinclair's fraud-filled background and utter lack of evidence to back up what he says, Cashill clearly still considers him to be credible.
That continued, bizarre embrace of a convicted felon is a reminder that there still isn't any reason to believe anything Cashill says.
The terrorist
In March, a man named Patrick Stein went on trial, along with two other defendants, for plotting to bomb an apartment building housing Muslim immigrants in the small Kansas town of Garden City. Cashill -- as he is prone to do when confronted with a person who is alleged to have done terrible things -- is siding with Stein.
Cashill spent his March 28 WND column to trying to exonerate Stein by portraying him as a dupe of the FBI undercover informant who had infiltrated the bombing operation. Cashill regurgitated Stein's claim that the FBI informant recruited him into the operation and was the main driver of it. Cashill then quoted a guy he called "America's leading authority on extremist groups," who said that "many of the would-be terrorist groups on the right, if not most, are propped up by FBI informants and undercover agents. The Garden City plot would seem to be a case in point." Cashill then adds: "As the plot reveals, it is hard to tell whether the FBI's agent provocateurs are more dangerous than the losers they encourage.
Needless to say, there's another side of the story that Cashill ignores. As an actual news outlet reported:
A Kansas militia member started trying to recruit other members to kill Muslim immigrants after the 2016 attack on the Pulse nightclub in Orlando, Florida, an FBI informant testified Thursday.

Patrick Day told jurors that Patrick Stein called him a couple of days after the attack in which a man who had pledged allegiance to the Islamic State group killed 49 people in the Florida attack. He said Stein told him he was "ready to take action" against Muslims and wanted to see who else in the militia group was with him and who wasn't.

[...]

Day testified that Stein and Allen held two more meetings to try to recruit other members to their plot. He said Stein called himself "Orkin man," a reference to the pest control chain, because he wanted to exterminate the Somalis, whom he referred to as "cockroaches."

Day recounted one recruitment meeting in the living room of a militia member's house in Lakin, Kansas, during which the homeowner, Trish Burch, adamantly refused to join them, arguing that militias are only for defensive actions.

Prosecutors played a recording for jurors in which Stein could be heard saying "better not be a f—— word said nowhere by nobody." Day said he understood that to mean the lives of the two people who had refused to join would be in danger if they talked to anybody. Those who did not join them were not given any details of the plot.
The defense was advancing -- as was Cashill -- the idea that Stein and the others were manipulated by the FBI. But it didn't seem to be going well; a defense attorney asked an FBI agent in charge of the case why she didn't just tell the defendants that they were under investigation and should just stop plotting to blow up Muslims. The agent responded that recordings made by the informant "showed the men to be distrustful of the government and that they had already discussed lying to law enforcement, making the FBI think a knock-on-the-door was unlikely to deter the men."
Remember: Cashill thinks these men are victims, not would-be terrorists. Oh, and Stein and his co-defendants were later convicted in the bombing plot.
The (alleged) blackmailer
Cashill spent his April 10 column defending Republican Missouri Gov. Eric Greitens, who's currently embroiled in a scandal in which he is alleged to have blackmailed a mistress. He lashed out at the prosecuting attorney for "playing almost exclusively to the media" and tried to poke holes in the mistress' account of the affair. "The case against Missouri Republican Gov. Eric Greitens is almost as pathetic as the case against Donald Trump, but those who consume the state's mainstream media do not know this and may never know it," Cashill huffed.
Unfortunately for Cashill, his column came out around the same time a report commissioned by the Republican-controlled Missouri legislature came out offering vivid details of the coercive, abusive relationship. The woman gave sworn testimony to the bipartisan legislative committee, which found her credible. Greitens refused to participate in the committee's investigation and he denounced its findings.
Hey, at least Cashill did concede that the affair did occur and that "Greitens has admittedly done enough wrong, at least by Republican standards, that a resignation would not be out of order." So that's something.
George Zimmerman
With all of these rogues on his plate just in the past couple months, why wouldn't Cashill run to the defense of George Zimmerman once again?

Cashill has continued to defend Zimmerman as his run-ins with the law mounted following his acquittal in the death of Trayvon Martin. Now Zimmerman has gotten himself in trouble yet again -- this time for stalking, threatening and harassing a private investigator working on a documentary about Martin. Cue Cashill to initiate the whitewash treatment, which he does in his May 9 WND column.

But first, Cashill rehashed the narrative he's so invested in: Martin was "an aspiring MMA fighter" who "was high at the time he attacked Zimmerman," while Zimmerman was, yes, "a civil rights activist."

Cashill then uncritically served up Zimmerman's defense for his stalking and threats: He was a victim of "entrapment," the investigator had contacted relatives using "a variety of subterfuges to circumvent security," and Zimmerman "decided to turn the tables on Warren and harass him back."

Needless to say, Cashill and Zimmerman offer no proof of any of this.

Maybe Cashill should spend less time defending the indefensible and more time trying to figure out why nobody takes him seriously.
The latest from