For Some Reason, CNS Did 2 Articles On Biden's Use Of 'Despacito' At Rally
Topic: CNSNews.com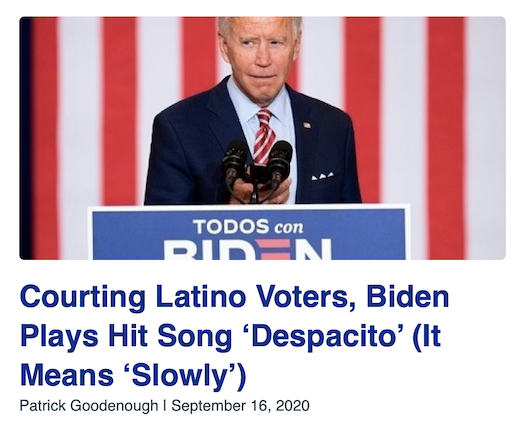 CNSNews.com loves to make Joe Biden look as bad as possible on its "news" pages -- it is the inverted-pyramid version of the Media Research Center, the media arm of the Trump campaign -- so it's no surprise that it somehow managed to do two articles on Joe Biden using the song "Despacito" at a rally.
Patrick Goodenough complained in a Sept. 16 article that "Democrat [sic] presidential nominee Joe Biden prefaced his remarks at a Hispanic Heritage Month campaign event in Florida on Tuesday night by playing an excerpt on his phone of the 2017 Spanish-language hit song 'Despacito,' grinning and swaying to be beat as he did so." He then went into Trump-surrogate mode:
Twitter erupted after Biden's opening, with words like "cringe" and "pandering" featuring prominently.

Trump campaign advisor Mercedes Schlapp was among many who drew attention to the meaning of the song's title.

"Does @JoeBiden realize that Despacito means 'slowly'? Fits well with Slow Joe,' she tweeted.

"What is this all about?" tweeted President Trump, linking to a spoof video in which Biden seemed to be playing not Despacito but the hip hop protest song 'F**k da Police" by N.W.A.
Goodenough concluded by snarking, "The song – as the video makes fairly obvious – is about sex."
Later that day, CNS managing editor Michael W. Chapman took that last sentence and ran with it, going full-on prude by presenting himself as offended by the lyrics:
Before he began his speech at an event in Florida to kick off Hispanic Heritage Month -- and try to appeal to Latino voters -- Democratic presidential candidate Joe Biden played part of the hit pop-song "Despacito," which is a Spanish-language song about taking romance "slowly."

But the song also strongly alludes to engaging in sex "slowly" in order to, as the lyrics say, "show my mouth your favorite places (favorite, favorite, baby)" and "to make you scream."

[...]

The lyrics are in Spanish but The Sun translated them into English for an article headlined, "Controversial Tune Despacito is absolute FILTH in English ... here is what the lyrics really mean." The Sun also reported that the song was banned on state radio in Malaysia.
As a raging homophobe, Chapman has had a longtime preoccupation with the sex lives of other people, real or fictional. But Chapman's sex obsession inadvertently undercut the "slow Joe" narrative Goodenough and Schlapp were pushing.
Posted by Terry K. at 12:43 AM EDT