Abortion-Obsessed CNS Editor Slams Ginsburg Upon Her Death
Topic: CNSNews.com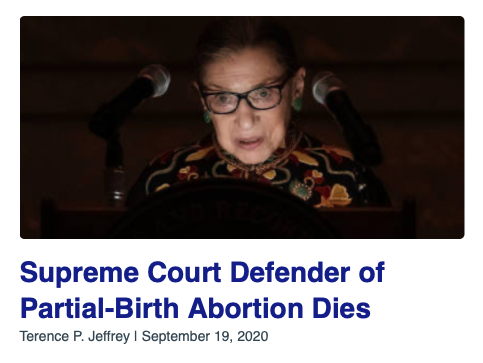 It took nearly a day for CNSnews.com to do a story on the death of Supreme Court Justice Ruth Bader Ginsburg. And because highly biased editor in chief Terry Jeffrey wrote it, the story -- illustrated with an ominous-looking photo of Ginsburg -- had no interest in looking at her groundbreaking career but, rather, was focused on a single subject he could bash her on:
Justice Ruth Bader Ginsburg, who defended what she argued was a constitutional "right" to partial-birth abortion, passed away on Friday night. She was 87 years old.

In the 2000 case of Stenberg vs. Carhart and the 2007 case of Gonzales vs. Carhart, Ginsburg made clear her view that the U.S. Constitution protected a "right" to abortion (as the court had ruled in the 1973 case of Roe vs. Wade and the 1992 case of Planned Parenthood vs. Casey) and that this right extended to the practice of partial-birth abortion.
Even though the story was ostensibly about Ginsburg, Jeffrey included an excerpt from Clarence Thomas' minority opinion in Stenberg v. Carhart in which he described in detail the "partial birth abortion" procedure for no apparent legal reason but apparently for shock value.
But Jeffrey wasn't done attacking a dead woman. In his Sept. 23 column, he huffed that "Justice Ruth Bader Ginsburg ought to be remembered for two things: her attacks on the right to life and her attacks on religious liberty." He rehashed his earlier attacks on Ginsburg's stances on the abortion-related cases -- and again repeated Thomas' gratuitious description of the abortion procedure in question, gushing at his "clinical clarity" even though Thomas is not a doctor, ranting, "How could any rational person conclude that the government had an interest in stopping doctors from jamming scissors into the skulls of partially born babies?
Jeffrey then complained that Ginsburg issued dissenting views in cases on whether employers had to cover contraceptives and "abortion-inducing drugs," grousing that in one case, "In Ginsburg's view, the federal government had a duty to force Catholic nuns to violate their religious beliefs in order to make sure their lay female employees did not have to pay for their own contraceptives."
Even the CNS editor in chief can't help but violate the "news" operation's mission statement to "fairly present all legitimate sides of a story."
Posted by Terry K. at 1:43 AM EDT