WND Touts Even More Coronavirus Conspiracy Theories
Topic: WorldNetDaily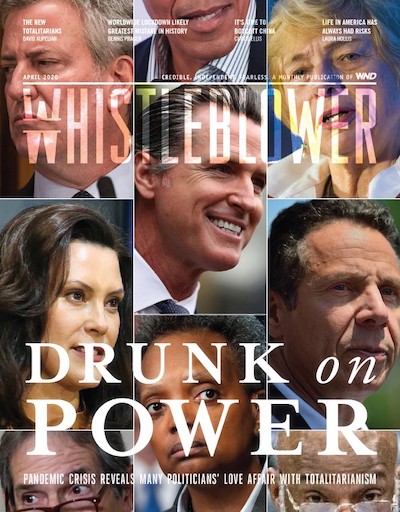 It should surprise nobody that WorldNetDaily has continued to spread conspiracy theories about the coronavirus pandemic. Let's take a look at some of the latest ones.
Michael Schisler wrote in a May 27 column:
What we are witnessing is a resurrection of the Vietnam War era media practice of broadcasting body counts on a daily basis. But now it's being done with a few twists designed to drive a radical left-wing agenda. During the Vietnam War, the media broadcast daily body counts to terrorize the enemy. Today they broadcast daily body counts in order to terrorize Americans.

While the typical American seeks solid information concerning the safety of reopening our businesses and schools, the liberal media feed us unqualified raw body counts. They are fully aware that raw body counts with absolutely no qualifying information terrorizes the American populace, which is exactly why they are doing it. They see that trafficking in fear porn has worked.
The same day, Jim Breslo contributed a column in which he accuses federal scientists Anthony Fauci and Robert Redfield of "exaggerating the seriousness of COVID-19," citing "Michael Fumento, author of 'The Myth of Heterosexual AIDS' and former AIDS analyst for the U.S. Commission on Civil Rights." Fumento's book was dismissed by actual scientists when it came out in 1990as being ignorant of AIDS research. In it, Fumento dismissed the impact of coronavirus, decalring that it "clearly is one that almost exclusively kills the elderly."
Meanwhile, WND was pushing conspiracy theories in its sparsely read Whistleblower magazine. Its April issue complained that America's response to the coronavirus pandemic was threatened by "the de facto alliance between an increasingly far-left Democratic Party and establishment news media both pathologically obsessed with destroying the elected president of the United States by any means possible – including weaponizing a genuine mega-crisis." WND seems to have forgotten it was pathologically obsessed with destroying an elected president of the United States by any means possible, including spreading lies and conspiracy theories.
In the May issue, titled "DRUNK WITH POWER," WND asserted that "more and more politicians across the nation are suddenly acting like full-blown dictators" in trying to stop or slow the spread of coronavirus -- though it doesn't mention the word "coronavirus" until the ninth paragraph of its preview.WND also ranted:
There appears to be no limit to either the dictatorial tendencies of many Democrat politicians – or to their hypocrisy. Former President Barack Obama was photographed golfing on a Virginia golf course 40 miles from his Washington, D.C. home, while his wife, former first lady Michelle Obama, was busy recording a robocall sternly urging all D.C. residents "to stay home except if you need essential healthcare, essential food or supplies, or to go to your essential job."
As we pointed out when CNSNews.com brought this up, it's nothing more than a cheap, lazy gotcha -- golf courses in Virginia were open at the time. In other words, WND remains as pathologically obsessed with Obama as ever.
Posted by Terry K. at 12:41 AM EDT