CNS Unemployment Coverage Distortion Watch
Topic: CNSNews.com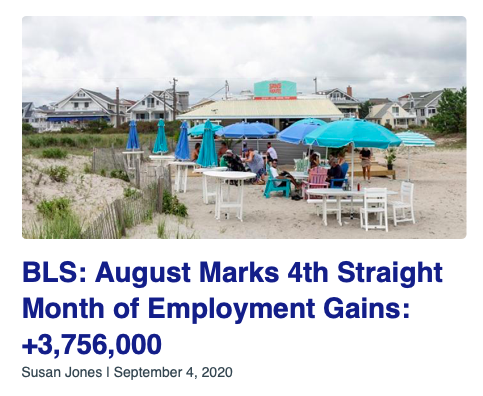 August's unemployment numbers were decent enough that Susan Jones' lead article did some aggressive gushing -- while, of course, working in how the economy was great before the pandemic:
Here's some encouraging news heading into the Labor Day weekend: The number of employed Americans increased for a fourth straight month in August, as 3,756,000 more Americans either returned to or joined the labor force, according to the monthly report produced by the Labor Department's Bureau of Labor Statistics.

After slipping from a near-record high of 158,759,000 in February -- then tanking in April to 133,403,000 -- the number of employed Americans increased in May to 137,242,000; June (142,182,000); July (143,532,000) and now August (147,288,000 employed).

Likewise, the nation's unemployment rate dropped for a fourth straight month in August, settling at 8.4 percent vs. 10.2 percent in July -- and well below the record shattering 14.7 percent in April, as the pandemic-induced shutdown took full effect. As recently as February, the unemployment rate was 3.5 percent, a 50-year low.
Needless to say, Jones made no mention of the "real unemployment rate" metric it loved pushing when a Democrat was president, and she gave a pass for the labor force participation rate being relatively low that she rarely gave though the reason -- retiring baby boomers -- was the same for it being relatively low under President Obama.
CNS also served up the usual sidebars -- Craig Bannister on Hispanic employment and Terry Jeffrey on manufacturing jobs.
Posted by Terry K. at 3:08 AM EDT