During Trump Imeachment, The MRC Turned Into MoveOn
Topic: Media Research Center
During the Trump impeachment trial, the Media Research Center used its NewsBusters blog to highlight purported hypocrisy by the "liberal media." For instance, the theme of one day was complaints that the Clintonimpeachment trial was"sidelining 'the people's business."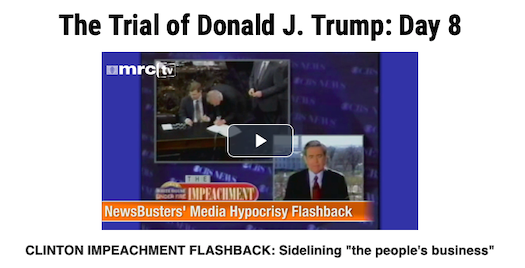 Meanwhile, the MRC is doing what it criticized the media for doing 20 years ago: complaining that the Trump impeachment as sidelining the people's business.
On Jan. 29, the MRC's activism division, MRC Action, sent out an email telling its followers to demand that senators "get back to work" (typographical enhancements in original):
It's time to let your Senators hear the voice of the people.

Tell the Senate to stop wasting time on impeachment and get back to work!

CALL YOUR SENATORS NOW!

The media have promoted their impeachment crusade since the day President Trump was elected. And the media elites are still pushing hard to promote impeachment. MSNBC contributors are even urging Congress to cancel the State of the Union address to focus on impeachment.

But Americans are simply sick and tired of impeachment...just look at the ratings! 3 million people tuned out when the major networks (ABC, CBS, and NBC) switched from soap operas to impeachment. That's right, The Young and the Restless has higher ratings.

Why?

Because the American people are sick and tired of nothing getting done in Washington. Politicians promise action, and instead of working they are dragging out this impeachment process.

It's time for Senators to vote and get back to their jobs. You can make a difference!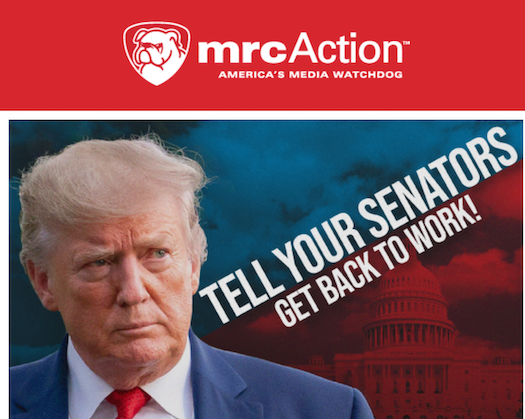 The next day, MRC Action sent out
another email
in which the MRC goes full-blown MoveOn.org:
NOW is the time to CALL YOUR SENATORS!

Just today, the top four Senate offices on our campaign landing page are starting to send calls to voicemail! They're overwhelmed by folks telling them to vote already and get back to work. (Btw, many House and Senate offices use voicemail transcribing software that turn each call into a written complaint that is counted as a contact of their office. So being sent to voicemail isn't a bad thing!)

This is urgent, and the message cannot be overstated: Every politician promised action and real legislation. Too much time is being wasted on impeachment — all the focus is on impeachment when our Senators are distracted from doing their actual work: to improve Americans' lives. This is exceedingly damaging to our Republic, both now and in the future.

[...]

It's time for the Senate to get back to work instead of wasting time and taxpayer dollars on impeachment!


Melt the Senate phone lines and urge both of your Senators to acquit President Trump. Show America that you won't stand for this outrageous, unwarranted bias against the President. Every call matters, place yours today!
This was followed by still another email taking credit for Republican Sen. Lamar Alexander's decision to vote for acquittal, screaming, "YOU HELPED MAKE THIS HAPPEN!" The email went on to rant that "As of early January, the Senate has yet to act on over 300 bills sent up from the House because they're too busy focusing on the farce of an 'impeachment trial.'"
After Trump's acquittal by Republican senators, MRC Action sent out one more email taking credit for that too:
YOU DID IT!

Our united effort to tell US Senators WE WANTED THE IMPEACHMENT TRIAL CONCLUDED WITHOUT MORE FOOT-DRAGGING has been an absolute TRIUMPH!

The timing has been historic. In less than 24 hours, President Trump delivered his stunning State of the Union Address, then was ACQUITTED in the Senate! – And that ONE-TWO PUNCH? It could not have come about IF IT WEREN'T FOR YOU!

Thanks to your adherence to principle and your energetic engagement, we in the MRC ACTION GRASSROOTS ARMY were able to change history!

This is NOT HYPERBOLE!
Actually, we're pretty sure it is hyperbole. The email cited only "2,573 grassroots members having allegedly participated, yet it went on to crow about a "MRC ACTION IMPEACHMENT TRIAL TSUNAMI."
At the same time, MRC bigwigs Tim Graham and brent Bozell served up their own MoveOn entry with a column titled "Turn the Page on Impeachment," insisting ath "it feels unexceptional, more like Chapter 27 of the Same Old Saga" (kinda like how six years of anti-Clinton activism in the 1990s by the MRC and its fellow conservatives yielded only an impeachment for lying about sex?), and huffing that "The American people should point and laugh at the idea that the networks would argue it was essential for the Senate jurors to be nonpartisan in their weighing of the evidence. Our media elites are never objective.
We would point out that the MRC's "news" disivion claims to be objective, what with its mission statement to "fairly present all legitimate sides of a story," but is even more biased than it has accused the "liberal media" of being.
This is all ironic because Bozell, in a 2018 interview, attacked MoveOn for ignoring the alleged Clinton scandals:
Throughout the Clinton administration, there was one scandal after another. Some many of these scandals preceded his election to the presidency but were hugely important, i.e. Whitewater. And then, once he became president, the Monica Lewinsky affair and others, and the FBI scandal, which was a huge scandal. Well, what did we hear from the media? We heard from the media that we needed to get to more important things. We need to move on, move on, move on. That's when we got moveon.org. They ignored all of the Clinton scandals.
And now, Bozell is MoveOn, and he's ignoring the Trump scandals because it's in his political interest to do so.
Posted by Terry K. at 3:07 PM EST
Updated: Thursday, February 6, 2020 4:49 PM EST