MRC, CNS Paper Over Kobe Bryant's Rape Allegation
Topic: Media Research Center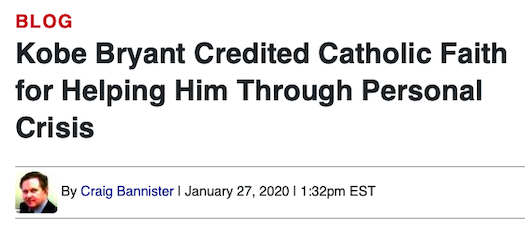 Basketball star Kobe Bryant's death in a helicopter crash prompted tributes even inside the ConWeb -- while downplaying a sertain something that would otherwise be the lead story.
At the Media Research Center, mysterious sports blogger Jay Maxson paid tribute to Bryant's "devotion to faith and family" while burying the thing that would seem to disprove that notion. Maxson eventually conceded that "In 2003, Bryant was accused of sexual assault in Colorado, but the charges were dropped when his accuser refused to testify in a civil court and settled out of court" -- but then he touted how "With his wife by his side in a press conference, Bryant admitted he had committed adultery," then quoted Bryant's denial of assault charges, which Maxson framed as an "apology" because he claimed to understand how the accuser thought that their sexual encounter wasn't consensual. Though Maxson claimed Bryant made this claim in court, it was actually issued through his attorney, not from the lips of Bryant himself.
Maxson then gushed: "How many celebrities will own up to sin in the 21st century? He tried to redeem himself through devotion to family -- his wife and four daughters. There were rocky times ahead for Bryant with his wife and family, but they appeared to weather those storms." Maxson invoked Bryant's professed Catholicism for allegedly having "helped him through the difficult times in his life, especially the sexual assault charge," then closed by reiterating: "Kobe Bryant's life was an imperfect life, but he finished strong and devoted himself to faith and family."
(Of course, Maxson would never give, say, Colin Kaepernick the consideration of being "imperfect.")
At the MRC's "news" division, CNSNews.com, Craig Bannister similarly gushed how "Pro basketball legend Kobe Bryant, who died Sunday in helicopter crash in Southern California, was a practicing Catholic who credited his Catholic faith for helping him through the toughest times in his life." He too took a while before admitting that the "toughest time" was the sexual assault charge:
Bryant relied on his Catholic faith as he dealt with, and sought to find peace after having been accused of sexual assault in 2003 – an accusation he denied, though he eventually issued an apology and agreed to a civil lawsuit settlement.
Bannister finished by noting a tribute Bryant by the Catholic archbishop of Los Angeles.
Posted by Terry K. at 3:23 PM EST
Updated: Thursday, February 20, 2020 9:30 PM EST