MRC Complains TV Characters Aren't Shamed For Having Abortions
Topic: Media Research Center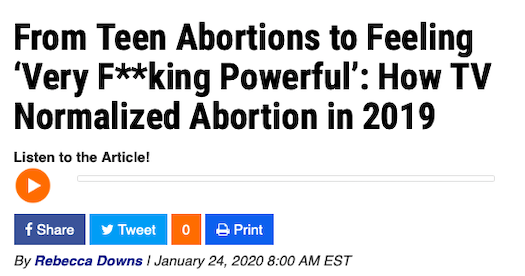 The Media Research Center wants women to feel forever stigmatized for having an abortion -- even make-believe characters on TV shows.Despite the fact that abortion is a common and safe medical procedure that has been legal for decades, Rebecca Downs spent a Jan. 24 post fretting that TV shows have "normalized abortion":
While television networks largely celebrate abortion, it's worth noting that a celebration of life is taking place, with the annual March for Life on January 24. Whether networks will finally give these peaceful pro-lifers their due in media coverage, after for years neglecting them, remains to be seen. Meanwhile, liberal television networks, from news shows, to actress spokespersons, to television dramas, continue to promote abortion to the public.

Here's a look at some of the most memorable abortion moments on television from the past year.
Downs' definition of "promoting" abortion is when a female character is not shamed or stigmatized for having one. For instance, she complains that one character's admission that she had an abortion as a teenager is an example of how "teen abortions are pushed." She even attacked shows with more instances of non-judgmental treatment of abortion as "repeat offenders."
Downs also complains that anti-abortion crisis pregnancy centers are criticized on TV:
Crisis Pregnancy Centers are a valuable resource enabling women facing unplanned pregnancies to choose life for their children. Sometimes this means choosing adoption, sometimes parenting. They're not meant to judge, but to help women. You'd never know that from how the liberal networks address CPCs, mostly as "fake clinics."
In fact, it's been documented how CPCs do judge, do coerce and mislead women. Downs is pushing a fantasy by pretending that doesn't happen.
Posted by Terry K. at 10:51 AM EST