MRC Deflects From Dershowitz's Ties To Jeffrey Epstein
Topic: Media Research Center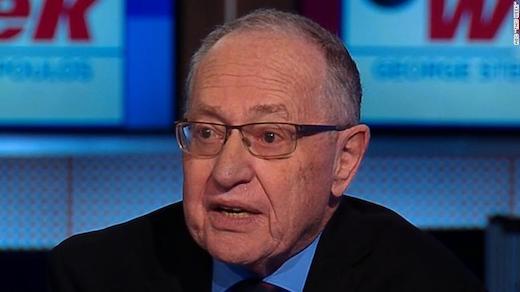 When the Jeffrey Epstein story broke anew last summer, the Media Research Center didn't want to talk about the convicted pedophile's links to its favorite legalistic Trump defender, attorney Alan Dershowitz. After laying low for a while when one of Epstein's underage victims accused Dershowitz of inappropriate behavior with her, Dershowitz is suddenly high profile again after becoming part of President Trump's legal team on impeachment matters. And after near complete radio silence from the MRC on the issue, the MRC has become annoyed that people are bringing up Dershowitz's ties to Epstein.
In a Jan. 21 post, Kristine Marsh complained that "The View" co-host pointed out that Dershowitz "defended Epstein," which makes it "seems like there's something very gross about all these people that they have something to hide." Marsh then complained that Behar wouldn't fall for a Republican-friendly attempt at deflection: "After co-host Meghan McCain pointed out that President Clinton had a relationship with Epstein as well, Behar dismissed that point as not relevant because he wasn't the one getting impeached 'right now.'"
The same day, Alex Christy expressed displeasure that CNN analyst Elie Honig discussed "controversial" members of Trump's defense team like Dershowitz, offering up his own "so what" defense: "Honig declared, 'He's been involved in high-profile cases he's defended from O.J. Simpson to more recently Jeffrey Epstein.' So? Even the worst people are entitled to defense counsel. Honig went on to cite the Epstein-related sexual assault allegations against Dershowitz, that Dershowitz has denied."
Is Christy putting Trump on his list of "worst people" entitled to a legal defense? He doesn't make that clear.
Gabriel Hays then complained that Samantha Bee highlighted "Dershowitz's friendship with billionaire and alleged suicide victim Jeffrey Epstein, saying, 'In Dershowitz's defense, it's not like he was close friends with notorious pedophile and didn't-kill-himself-er Jeffrey Epstein. Oh no, I'm sorry, he totally was.' Boom, roasted, right?"
Hays then immediately went into whataboutism mode: "But isn't the source of much of her rage the fact that Trump beat her own preferred rapist protector in the 2016 election? I mean, regardless of any of these men's charges, Samantha's Hillary Clinton support shows that she supports the same kind of person."
It seems the MRC is still a bit uncomforable with the fact that Dershowitz is basically the same kind of "sleazy porn lawyer" it normally hates.
Posted by Terry K. at 3:42 PM EST