WND Employed Even More White Nationalists
Topic: WorldNetDaily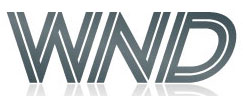 A few weeks back, we detailed how a BuzzFeed News profile of former alt-right white nationalist Katie McHugh revealed that WorldNetDaily -- in addition to its already-known ties to white nationalism by publishing the likes of Colin Flaherty, Paul Nehlen and Scott Greer -- had employed another white nationalist, Kevin DeAnna, as well as a pre-mea culpa McHugh. It turns out there are even more links.
A Twitter thread by McHugh claims that Michael Thompson, who worked as a marketing director for WND, was apparently enough of a white nationalist that notorious white nationalist Peter Brimelow, founder of the white-supremacist website VDARE, attended his wedding.
We caught Thompson in 2012 promoting Alex Jones-inspired conspiracy-mongering protesters outside a Bilderberg Group meeting in the Washington area (not too far from WND's then-headquarters), and in 2016 when he -- who "works in the marketing department for WND.com and WND Books and is the social media manager for WND," according to his bio at the time -- attacking the researchers who debunked claims in David Barton's book about Thomas Jefferson, which WND republished with minor edits after the original publisher pulled the book from the marketplace.
(Tim Dionisopoulos also wrote about the Bilderberg gathering for WND along with Thompson; as we documented, he was a member of the racist, misogynist group Youth for Western Civilization and later went on to run social media for several years at the Media Research Center.)
Weirdly, Thompson's byline no longer appears on those pieces; it seems that somewhere along the line, WND removed Thompson's article archive, which apparently wiped out formal bylines on the pieces he wrote as well. Pieces from 2012 and 2013 in which Thompson's byline is integrated into the body copy still have them intact.
McHugh also claims that Andrea Prevette, whom she identifies as "Elizabeth Farah's assistant," is an "active member of the Wolves of Vinland," which the Daily Beast describes as a white supremacist group with a neo-pagan twist (and identifies Prevette as a member as well). DeAnna has also attended Wolves of Vinland events.
Prevette, along with Thompson, apparently worked in WND's book division as well. In his WND-published 2015 book "When A Jew Rules The World," Joel Richardson thanked both Thompson and Prevette for being the "marketing coordinators" for the book.
WND's shoddy journalism is one big reason it probably doesn't deserve to live. Its extensive association with white nationalists is another.
Posted by Terry K. at 12:09 AM EDT