MRC Can't Stop Being Triggered by Greta Thunberg, Then Bullying Her
Topic: Media Research Center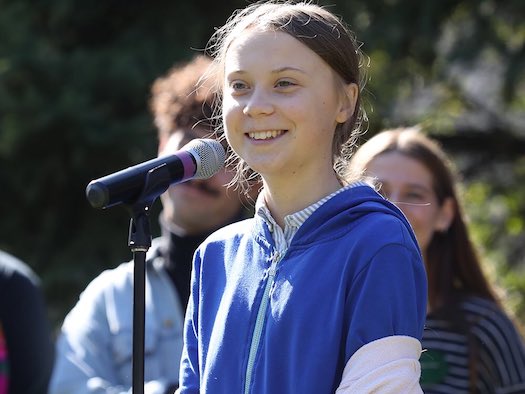 The reaction from the Media Research Center to teen climate activist Greta Thunberg when she emerged last year consisted largely of insulting and bullying her for her activism. The insults and bullying haven't really stopped.
Gabriel Hays seems to be emerging as the MRC's chief Thunberg bully. In a November post mocking her for a magazine recognizner her as among those who, in his words, "are contributing to the delusion and hysteria of the next female generation,: Hays sneered that Thunberg was a "tantrum-throwing, Swedish Climate Change child, adding: "She's definitely a nice caricature of the left, that's for sure. Her anger and resentful 'How dare you?!' speech has become the greatest internet meme depicting the left's tolerance."
In December, Hays ranted about the idea of someone making a documentary about Thunberg:
Oh, great, another super lefty is getting the fawning documentary treatment from Hulu in the near future. It was reported on Wednesday that everyone's favorite diminutive doomsday cult leader Greta Thunberg will be immortalized via documentary by the streaming platform. Ugh, no more, please! Ahem, we mean, Yay! Greta Thunberg's getting a movie everybody! She's so awesome (because saying otherwise means we're guilty of child abuse.)
Hays' Thunberg Deranghement Syndrome flared up again in a Feb. 12 post incensed that another documentary about Thunberg was coming:
"Dora the Extorter?" "Exploited Development?" "How I Nagged Your Mother?" Whatever the eventual title, be afraid. Greta Thunberg is headed for TV.

During the BBC Showcase on Feb. 10, the network announced production of a docu-series on the life and and propaganda of the Swedish Scold. In a statement the BBC said, "The series will follow Greta's international crusade, which takes her to the front line of climate change in some of the most extraordinary places on earth as she explores what actions could be taken to limit climate change and the damage it causes."

So we'll see Thunberg (which definitely does not rhyme with "Funberg") yelling at hapless politicians and hobnobbing with concerned celebrities, interspersed with classic tearjerker shots of supposedly starving polar bears, and footage of the burning Amazon Rainforest. (Context-free footage that is, since many of the fires are necessary for the environment and global incidence of fires has been on the decline in general since 2003. But we digress.)

The statement continued: "as she travels Greta meets not only leading scientists but political leaders and business heavyweights, exploring the scientific evidence with them and challenging them to change." Oh gee, more viral 'How dare you?!' moments. That should be a ratings bonanza.

[...]

"The films will also chart her own journey into adulthood as she continues to be confronted by the real world consequences of inaction," said the Beeb. Sounds like a compelling case on borderline child abuse.
Never mind that Hays is the one talking like an abuser here, with his incessant, immature mockery and abject hatred of Thunberg.
Hays wasn't the only MRC writer to be triggered by Thunberg, though. Kyle Drennen complained that "radical teenage climate crusader" Thunberg was named Time magazine's person of the year with no mention fo "Thunberg's extreme beliefs." Kristine Marsh dismissed Thunberg as a "radical Swedish teen climate change activist," whining that "The media has spent months propping up the "climate crusader"with dozens of fawning reports that skip over her extreme beliefs.
Looks like a few someones got a memo to push a narrative that Thunberg is "radical" and "extreme."
In January, Marsh defended vicious right-wing attacks on Thunberg by playing whataboutism:
It seems only liberal kids are "off-limits" to the media. The media had no issues smearing a group of Catholic teens as racists for smiling while a liberal activist beat a drum in their faces. Several outlets had no problem attacking President Trump's teenage son for doing...absolutely nothing. Meanwhile, a Swedish teen radical who thrust herself into the global spotlight, lecturing world leaders for "stealing her dreams and childhood" gets the royalty treatment by the media and even Hollywood.
As much as Marsh would like to believe otherwise, making a mild pun on Barron Trump's name in congressional testimony is not an "attack" on him, though the MRC has had no problem with actual attacks on the minor children of Democratic presidents.
In a Jan. 28 post, Sadi Martin called Thunberg a "fanatic," huffing: "The leftist media loves to try and push the idea that those who are "fighting" for whatever cause is most popular to them are heroic, but trying to compare a 16-year-old girl who is known for screaming at world leaders for "ruining the planet" while doing basically nothing to actually solve what she sees to be a problem is a pretty big stretch, to say the least.
Even the most benign action by Thunberg triggers the MRC, In a Feb. 9 post, Rachel Peterson grumbled: "Hollywood's favorite 17-year-old climate change expert Greta Thunberg kicked off the documentary mash-up during the Oscars on Sunday night. In a montage, she thanked David Attenborough for getting her interested in the environment through his documentaries." Yes, the MRC attacked Thumberg for saying something nice about a filmmaker.
Saying nice things about Thunberg also puts you in the crosshairs. In a Feb. 8 post, Tim Graham was apoplectic that actor Harrison Ford praised her, insulting his (and Thunberg's) intellectual capabilities in the process:
It's fascinating that a movie star with no science degree is hailing the "wisdom" and "disclipline" of science in the same breath as he hails a 17-year-old high school dropout with no science degree. The "young people" Ford is touting have no scientific degrees. In that "ideological campground," as long as you're on the "right side of History," so you don't need to know all the science.
Funny how education and expertise suddenly become important when it suits the MRC's conservative agenda. A few years ago, the MRC demanded coverage of a right-wing petition criticizing climate change even though few of the petition's signatories had any relevant education or expertise in climatology.
Posted by Terry K. at 9:05 PM EST
Updated: Friday, March 6, 2020 10:09 PM EST