CNS' Excessive Pro-Trump Bias Extends To Impeachment Trial Coverage
Topic: CNSNews.com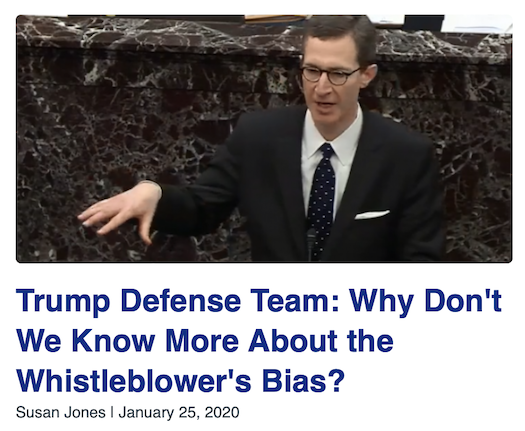 The right-wing bias with which CNSNews.com has covered President Trump's impeachment process extended to the arguments on the Senate floor in Trump's impeachment trial.
CNS presented the arguments of Trump's defense team in a straightforward manner without additional editorial comment and leaving their arguments unchallenged:
By contrast, CNS' news stories on the arguments made by the House impeachment managers were not only fewer in number, they reguarly included editorial comment, usually by Susan Jones, and focused only on the words of leader Adam Schiff despite the fact thatseveral other House managers also spoke:
Jones began one story by sneering: "To those who have been listening all along, nothing new emerged at the Senate impeachment trial on Wednesday, as House Democrats laid out their case, repeating many of the arguments they used in the lead-up to impeachment."
In another one, however, Jones did seem to concede the fact that Trump's claim that Ukraine interfered in the 2016 presidential electionhas been "debunked," even though she has uncritically promoted the conspiracy theory in the past.
The utter imbalance in quantity and tone of how the House managers were reported, compared with how Trump's defense team was reported on, seems to violate CNS' mission statement to "fairly present all legitimate sides of a story." CNS absolutely cannot claim that happened here.
Posted by Terry K. at 1:44 AM EST