MRC Melts Down Over 'Throuple' Who Wants To Buy A House
Topic: Media Research Center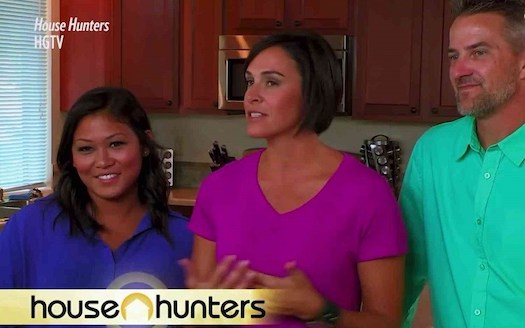 The Media Research Center is vehemently opposed to the mere existence of anyone who is not exclusively heterosexual, let alone allowing such a person to be depicted, in real life or fiction, in the media (at least not with a healthy dose of shame for being who they are). So when the HGTV show "House Hunters" featured a "throuple" looking for a suitable house, a meltdown was inevitable even though they were contributing to the Trump economy by buying a house. Crank up the sneering condescension, Alexa Moutevelis:
The nuclear family is so 20th Century. That's what our culture is telling us repeatedly. The latest iteration comes from HGTV's popular program House Hunters, which featured it's very first "throuple" (a three-person polyamorous couple) in an episode that aired Wednesday night.

Just in time for Valentine's Day, the episode, titled "Three's Not a Crowd in Colorado Springs," introduced married couple Brian and Lori, who have two biological children together, and their partner Angelica "Geli."

[...]

"I didn't plan on being in a relationship with a married couple, but it just happened very naturally, organically," Geli said. Yes, what could be more natural and organic than a three person relationship?

"The past four years, I've been living in Lori and Brian's house, so buying a house together, as a throuple, will signify, like, our next big step as a family of five rather than all four of them plus me," Geli said. Sounds like Geli has been a little jelly (jealous) of the original nuclear family. Those poor kids!
Moutevelis seemed to be encouraging residents of the city the throuple is moving to harass and shame them in her stead: "By the way, they might have some additional trouble fitting in, Colorado Springs is known as one of the most conservative cities in the country, home to Focus on the Family and the U.S. Air Force Academy.
Moutevelis concluded by whining that "Again, pushing polyamory is not a new cultural phenomenon. ... To get really weird, Freeform's mermaid drama Siren even boasted an interspecies triad," before closing with one final sneer: "I don't even want to think about the latter happening in real life, let's just hope HGTV doesn't turn it into another special episode."
Moutevelis' obvious hatred undercuts any other message she might be trying to send.
Posted by Terry K. at 2:43 PM EST