MRC Bogus Study Watch
Topic: Media Research Center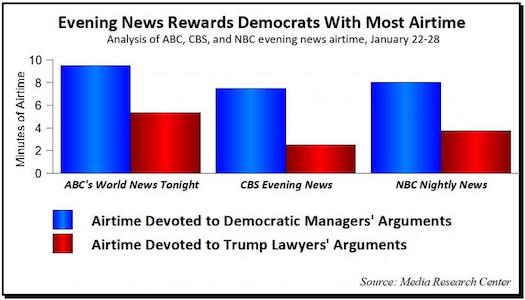 The Media Research Center added to its litany of bogus studies on impeachment coverage with a Jan. 29 piece by Nicholas Fondacaro:
Before the Senate impeachment trial of President Donald J. Trump was gaveled into session, Chief Justice John Roberts presided over a swearing-in ceremony where all 100 senators pledged to be impartial jurors. The liberal media zeroed in on that pledge and decried Senate Republicans who seemed to be siding with the President.

But a Media Research Center study of broadcast evening news coverage of the opening arguments of both sides, found ABC, CBS, and NBC did not live up to the standard they demanded of Republicans. They gave Democrats double the airtime and showered their arguments with mostly praise, while expressing only criticism of the President's legal team.
As usual, the MRC's exceedingly narrow methodology is at play here: examining only neetwork evening news, and then only a tiny sliver of that with "evaluative statements," and the complete exclusion of neural coverage and the refusal to make its data public so the rest of us can judge how biased the "study" is.
Curiously, Fondacaro didn't disclose the methodology in his piece. Instead, he seemed to be more interested in serving as a member of Trump's defense team:
The networks would roundly tear down the arguments Trump's legal team was making despite the evidence they would present. When Trump lawyer Michael Purpura argued with evidence that the President was long interested in burden-sharing when it came to Ukraine's defense, CBS chief congressional correspondent Nancy Cordes tried to shoot it down by saying, "Those claims run counter to witness testimony." A common assertion by the networks.
Fondacaro offered no evidence to rebut Cordes' statement that defense lawyers' arguments "run counter to witness testimony."
Fondacaro further complained that "With the liberal media's demand that Republicans be impartial in hearing the case, it was clearly more of a 'do as I say, not as I do' suggestion." He failed to note how his employer's "news" division, CNSNews.com, offered even more biased coverage of impeachment trial arguments.
But CBS complained to the MRC about the study, and the MRC's response dismissing it in a editor's note at the bottom of the piece, showed just how narrow and ideologically driven its methodology is:
A spokesman for CBS News contacted NewsBusters to insist that the minutes-and-seconds count for CBS did not mention CBS had the only interview with a group of Trump-defending House members.

The study was about the relative coverage of the two Senate presentations -- one by the House managers, one by Trump's legal team. The numbers are therefore accurate, and this is explained in the article. As NewsBusters readers were already informed by Nicholas Fondacaro, anchor Norah O'Donnell interviewed the four GOP House members (not legal team), but she also interviewed four Democrat House managers. That's not included in the CBS count either, since it aired prior to the study period.
Funny how anything that might have made CBS look less biased is conveniently excluded from the MRC's study. It's almost as if the methodology was drawn up to reach a pre-determined conclusion in order to fit an agenda.
Posted by Terry K. at 4:50 PM EST
Updated: Thursday, October 8, 2020 10:23 PM EDT