CNS Entertains Coronavirus Conspiracy Theory
Topic: CNSNews.com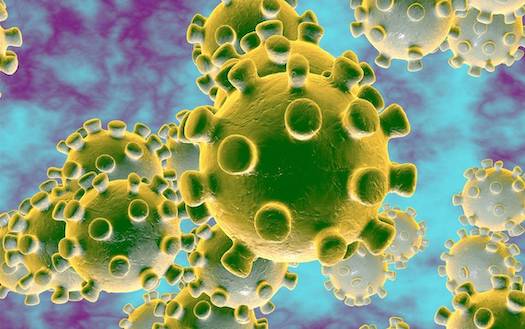 Patrick Goodenough started off his Feb. 19 CNSNews.com article in a somewhat promising way:
Did the coronavirus that emerged in the Chinese city of Wuhan late last year originate from a market where live animals were sold alongside seafood? Or is there another explanation – one that may be linked to China's leading institute dealing with virology, virus pathology, and emerging infectious diseases?

Debates over the issue have been raging online, even as scientists around the world are, as Science News reported last week, "furiously exchanging data, including genetic details of viruses that have infected people."

Conspiracy theories birthed by the outbreak of the Wuhan coronavirus, now named COVID-19, include claims of a Chinese bioweapon, deliberately or accidentally discharged.
Unfortunately, Goodenough felt the need to justify the existence of those conspiracy theories. He claimed that "Beijing's poor record of transparency – in this and previous coronavirus outbreaks" was enough justification, touting how "some critics, while not necessarily promoting the notion of a bioweapon, are calling into question the assertion that the Huanan Seafood Wholesale Market was the source. They are raising questions about a possible link with the Wuhan Institute of Virology (WIV), located less than nine miles away."
He then gave space to Republican Rep. Tom Cotton to peddle that very conspiracy theory:
"So we don't know where it originated. But we do know that we have to get to the bottom of that," Cotton said. "We also know that just a few miles away from that food market is China's only biosafety level-4 super laboratory that researches human infectious diseases."

"Now, we don't have evidence that this disease originated there [at the WIV], but because of China's duplicity and dishonesty from the beginning, we need to at least ask the question to see what the evidence says," he continued. "And China right now is not giving any evidence on that question at all."
Curiously -- since he's probably the closet thing to a real reporter CNS has -- Goodenough offered no pushback or balance, refusing to mention that people who know more about the subject than Cotton does have debunked his claim. The Washington Post reported:
In response to Cotton's remarks, as well as in previous interviews with The Washington Post, numerous experts dismissed the possibility the coronavirus may be man-made.

"There's absolutely nothing in the genome sequence of this virus that indicates the virus was engineered," said Richard Ebright, a professor of chemical biology at Rutgers University. "The possibility this was a deliberately released bioweapon can be firmly excluded."

Vipin Narang, an associate professor at the Massachusetts Institute of Technology, said it is "highly unlikely" the general population was exposed to a virus through an accident at a lab.

"We don't have any evidence for that," said Narang, a political science professor with a background in chemical engineering.

[...]

After Cotton's Sunday remarks, Narang said, "These kinds of conspiracy theories are unhelpful."

"I don't think it's particularly helpful, and it's borderline irresponsible to — and it's without evidence, so at this point it's a conspiracy theory — peddle it," he said. "Cotton should spend more time funding the agencies in the United States that can help contain and combat the virus rather than trying to assign blame."
That seems like relevant informtion, but Goodenough apparently deemed it unnecessary for his article. Instead, he quoted Ebright from a Twitter thread suggesting that the coronavirus could have been "a natural accident or as a laboratory accidentand ignoring Ebright's statements in the Post denouncing the idea that the virus is an engineered bioweapon.
We hate to see Goodenough bowing to CNS' increasingly virulent right-wing bias, but that's what appears to be happening.
Posted by Terry K. at 2:08 AM EST