WND's Kupelian Touts Bogus Letter Denying Climate Change
Topic: WorldNetDaily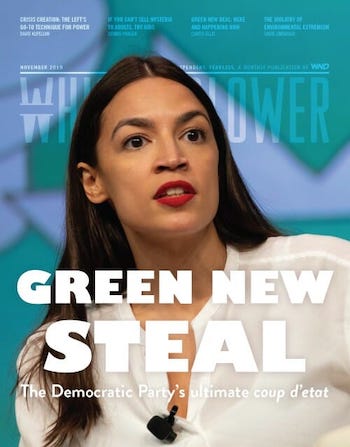 David Kupelian's article for the current issue of WorldNetDaily's sparsely read Whistleblower magazine -- with the theme of the Green New Deal being "the Democratic Party's ultimate coup d'etat -- is a lot of ranting and getting things wrong about climate change.
He tries to discredit the idea of climate science by citing views about the climate from the 19th century, as if education and knowledge about the subject hasn't changed over the past 125 years. Then he touts non-experts as experts; at one point he devotes several paragraphs to how "Village News Publisher Julie Reeder explained" how "the earth, ironically, is getting greener every day." But Reeder has no apparent background in environmental science; she runs a small-town newspaper in California.
Kupelian then highlighted:
Indeed, in late September, more than 500 scientists and professionals in climate and related fields signed a letter to the United Nations saying "There is no climate emergency."

"Climate science," their declaration reads, "should be less political, while climate policies should be more scientific. Scientists should openly address the uncertainties and exaggerations in their predictions of global warming, while politicians should dispassionately count the real benefits as well as the imagined costs of adaptation to global warming, and the real costs as well as the imagined benefits of mitigation."

The scientists added: "There is no statistical evidence that global warming is intensifying hurricanes, floods, droughts and suchlike natural disasters, or making them more frequent. However, CO2-mitigation measures are as damaging as they are costly. For instance, wind turbines kill birds and bats, and palm-oil plantations destroy the biodiversity of the rainforests."

Since there is no "climate emergency," they conclude, "there is no cause for panic and alarm. We strongly oppose the harmful and unrealistic net-zero CO2 policy proposed for 2050."
But that letter is meaningless. As actual experts point out, few of the signatories are professionals in biology, ecology, or environmental science, and the claims cited in it ranges from being cherry-picked to misleading to just plain wrong.
But telling the truth is not on Kupelian's agenda -- propping up a right-wing narrative is. And a key part of that is attacking the bogeyman that is Rep. Alexandria Ocasio-Cortez and the Green New Deal she's championing with a big ol' WND-style conspiracy theory:
But wait.

What if the Green New Deal is not about remedying the supposed catastrophic effects of climate change? What if it's all just a ploy, a Trojan horse designed to bring about a full-scale socialist revolution in America?

It turns out, that's exactly what Ocasio-Cortez' own former chief of staff, Saikat Chakrabarti – widely acknowledged as the brains behind the socialist New York congresswoman – revealed during a recent media interview: The real purpose of the Green New Deal is to turn America socialist.

In a story reported by the Washington Post, Chakrabarti stunningly admitted: "The interesting thing about the Green New Deal is it wasn't originally a climate thing at all. Do you guys think of it as a climate thing?" asked Chakrabarti. "Because we really think of it as a how-do-you-change-the-entire-economy thing."

We are beholding one of the greatest hoaxes in world history.

Make no mistake. It may be tempting to dismiss Ocasio-Cortez, whose arrogance is exceeded only by her ignorance. But just beyond this colorful public character with the bright red lipstick is the entire elite globalist left, which for decades has been dreaming and scheming about implementing their precious socialist new world order.

And they think now is finally their time.

But first, they have to get rid of the great disrupter of their plans: President Donald J. Trump.
Spoken like a guy who's worked at WND for a couple decades.
Posted by Terry K. at 12:53 AM EST