Bridge Over Biased Waters
The Media Research Center may have shut down its TimesWatch blog, but Clay Waters' shoddy Times-bashing lives on.
By Terry Krepel
Posted 5/22/2013
Updated 5/24/2013
---
The Media Research Center announced that it is discontinuing the TimesWatch blog. MRC vice president Brent Baker wrote in a May 15 post:
The Media Research Center will be consolidating products and, as a result, TimesWatch posts and the TimesWatch Tracker will be rolled into our other sites and e-newsletters.

TimesWatch Tracker e-mail subscribers will receive their last edition on Friday, May 17. Starting on Monday, May 20, TimesWatch Tracker subscribers will automatically begin receiving the MRC's CyberAlert e-mail which will include the New York Times' liberal bias in its mix of daily documentation.
The MRC was silent about whether TimesWatch writer Clay Waters would remain with the company, though he hasn't written anything for MRC's NewsBusters blog since TimesWatch was shut down.
The very concept of TimesWatch was always a dubious proposition. Its stated goal was "documenting and exposing the New York Times' liberal political agenda," which involved cherry-picking 10 or so items per week -- out of the hundreds of pieces of original content the Times generates in that time -- to demonstrate said purported bias. Such cherry-picking fails to provide any sort of comprehensive content analysis. But such analysis was never the goal -- spreading the meme that the Times is hopelessly liberal was.
Identifying conservatives as "conservative"
It didn't help that Waters' main idea of "liberal bias" at the Times appeared to involved complaining that the paper referred to conservatives as "conservatives." No, really:
Telling the truth = liberal bias
A January 2012 TimesWatch item by Waters carried the headline "No Rest in Peace for Gay Rights: Times Mars Memory of Cracker Barrel Founder." Waters complains that a New York Times obituary on Danny Evins, founder of the Cracker Barrel chain of restaurants, "heavily emphasized his 20-year-old position on openly gay employees," dismissing this as "old news."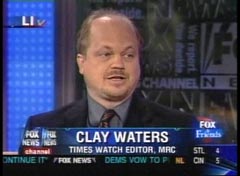 Um, isn't an obituary supposed to recount the major events of one's life, no matter how old? And Cracker Barrel's anti-gay discrimination, while not illegal at the time but characterized by what the Times called its "blatancy," was certainly an event worth noting.

In a May 2012 item, Waters accused the Times of having "a clear Rupert Murdoch obsession" because of its front-page coverage of News Corp. scandals. Waters notes that News Corp. is "a direct Times competitor in New York with the Wall Street Journal and New York Post." But News Corp. has a much larger New York presence than just the Post.

News Corp. -- which is headquartered in New York city -- also owns New York TV station WNYW, the Fox Broadcasting flagship, as well as community newspapers in Brooklyn, Queens and the Bronx. News Corp.'s book division, HarperCollins, is also headquatered in New York. And Fox News' main studios are in New York.

That significant New York presence makes News Corp. a local story. Does Waters think the Times shouldn't cover local news?
Ignoring the facts
Waters has a penchant for ignoring inconvenient facts if they got in the way of his right-wing talking points.
A Feb. 8 post by Waters groused that the New York Times had yet to report that alleged cop killer Christopher Dorner "praised liberal media personalities in his oddly chatty 'manifesto' posted on Facebook." Waters didn't mention that Dorner's manifesto also praised some conservatives, in particular Tim Tebow, radio host Bill Handel and notoriously anti-immigrant radio hosts John and Ken.
In a March 1 MRC TimesWatch article, Waters highlighted journalist Bob Woodward's claim that he considered his "disagreement" with White House adviser Gene Sperling to be a "veiled threat," lamenting that the Times "followed most of the mainstream media in taking the side of the government." But Waters ignored the fact that Woodward backtracked on his claim in the wake of the release of the emails proving there was no threat -- even though he copies-and-pastes from a Times article pointing that out.
Waters devoted a May 6 item to smearing Obama adviser Cecilia Munoz and the advocacy organization for which she used to work. Waters called Munoz "Obama's chief amnesty pusher" -- ignoring the fact that comprehensive immigration reform that requires numerous steps before an illegal immigrant is allowed to become a citizen is, by definition, not "amnesty" -- and complained that a New York Times article on her buried "Munoz's history as a lobbyist for the left-wing separatist group National Council of La Raza ('La Raza' means 'the race')." Waters also called La Raza "a radical pro-Hispanic group."
In fact, La Raza -- which actually means "the people" or "the community" -- is not "radical" or "separatist" but, rather, an advocacy group for Hispanics.
Sock puppetry
A curious double posting of a comment appeared on a 2010 Columbia Journalism Review article -- one under the name of Clay Waters, the other under the name of "Sam Tyler." Waters quickly followed that up with another post: "oops, outed myself! at least now I'm free...."
That's right -- Waters was posting comments on another website under a pseudonym, also known as sock puppetry. Turns out Waters also posted as "Sam Tyler" on the Media Matters website. It's highly reminiscent of how conservative gun advocate John Lott would post comments under he name Mary Rosh.
CJR's Ryan Chittum soon weighed in with a comment of his own, directed at Waters:
Clay,

I think that there can be a need for pseudonymity (unfortunately) on the Internet. But my first instinct is that you had a duty to be above board with who you are here. You're paid to criticize the so-called liberal media by a right-wing advocacy group, Brent Bozell's Media Research Center.

I would never comment on your site--or anybody else's--under a false name.

I have previously outed an Obama administration flack for sockpuppeting on here. I don't think this rises to that level. But I don't think it's kosher, either. Do you think it'd be cool if somebody from Media Matters came on here and did that?

Anyone else have any thoughts?
Waters never responded. And getting busted in such dishonesty apparently did not affect his employment at the MRC.
Standard (if lame) MRC procedure
In a June 2010 post, Waters complained a New York Times story on Illinois Senate candidate Mark Kirk making a false claim about his military record identified Kirk as a Republican in the first paragraph, while a story on Connecticut Senate candidate Richard Blumenthal's false claims about his military record didn't identify him as a Democrat until -- horrors! -- the third paragraph.
Related articles on ConWebWatch:
Waters was curiously silent, however, about a couple other crucial differences between the two stories. The Kirk story was only 12 paragraphs long and was buried on page A14, while the Blumenthal story was a whopping 50 paragraphs long and started at the top of the front page.

But to Waters, size and placement of an article is apparently a less reliable indicator of bias than how far up in the article a person's political party appears.

Waters did embrace the MRC mindset that Fox News can't possibly have a conservative bias and that anyone thinks it does has a liberal bias. Writing in a July 2012 post about a New York Times article that accurately pointed out Fox News chief Roger Ailes having "professed to be steering the network toward a 'course correction,' an acknowledgment that it had shifted too hard to the right." But in Waters' funhouse mirror, even Fox admitting its bias doesn't mean it's biased -- rather, it means that all non-Fox media has a liberal bias:
New York Times media reporter Jeremy Peters unwittingly revealed the widespread liberal bias of the media in Thursday's report on how the Fox News Channel has really gotten under President Obama's skin: "Jokes About Fox News Creep Into Obama's Comments as the Campaign Heats Up."

[...]

But whether he realizes it or not, Peters' analysis says more about the stark lack of Obama-scandal coverage in the liberal media than it does about slant at Fox News.
And what is the prime example of this Waters serves up? "The Media Research Center documented that it took five days for the Big Three (ABC, CBS, NBC) networks to even notice Obama's remark from last Friday denigrating individual initiative: 'If you've got a business, you didn't build that; somebody else made that happen.'" Waters didn't explain that in order to find Obama's remark "denigrating," it must first be taken out of context.
What may have actually doomed TimesWatch, was that even the cherry-picking couldn't hide the fact that the Times was not as slavishly liberal and Waters and the MRC would have you believe. In a 2010 column, then-Times public editor Clark Hoyt conceded that the the Times' editorial pages skew liberal then added:
But if The Times were really the Fox News of the left, how could you explain the investigative reporting that brought down Eliot Spitzer, New York's Democratic governor; derailed the election campaign of his Democratic successor, David Paterson; got Charles Rangel, the Harlem Democrat who was chairman of the House Ways and Means Committee, in ethics trouble; and exposed the falsehoods that Attorney General Richard Blumenthal of Connecticut, another Democrat, was telling about his service record in the Vietnam era?
Waters' incredibly lame response: "Of course, as the Times is always reminding us, the Republican Party has been decimated in the Northeast in recent years, meaning the region is dominated by Democrats, meaning most political scandals will involve Democrats."
Waters missed the point. If the Times was "the Fox News of the left," it would have ignored or downplayed these stories, and it certainly wouldn't have broken them. Waters also seems to be conceding that Fox News is egregiously biased, which the MRC has been loath to admit in the past. Yet he made no offer to conduct the one bit of research that would settle the question once and for all -- compare a day's worth of content on Fox News to the content of that day's Times.
Waters has been cranking out such "media criticism" for years, which come off as pretty lame even by MRC standards. That, beyond the product-consolidation excuse, may be the real reason TimesWatch no longer exists.
(Update 5/24/13: Added section on Waters' sock puppetry.)