MRC Won't Admit It Helped Spread Conspiracy Theories About Arrested Dem IT Staffer
Topic: Media Research Center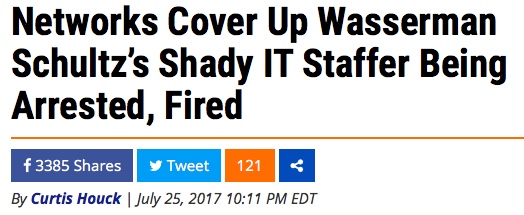 In a July 5 Media Research Center post complaining that there was insufficient media coverage of former Democratic House IT aide Imran Awan pleading guilty to a bank fraud charge, Bill D'Agostino huffed: "Liberal print media have attempted to spin this finding into a non-story. On Tuesday, The Washington Post published a piece titled, 'Conspiracy theories on ex-congressional IT staffer debunked in plea deal,' which triumphantly mocks the attention that conservative media have given Awan."
What D'Agostino didn't mention: His employer was among the conservative media that promoted those conspiracy theories about Awan.
The Post pointed out that the plea agreement for Awan included a statement that, following a "thorough investigation" of forensic analysis of computer equipment and interview with 40 witnesses, "'The Government has uncovered no evidence that your client violated federal law with respect to the House computer systems,' including stealing equipment or illegally accessing or transferring information." Prosecutors added: "Particularly, the Government has found no evidence that your client illegally removed House data from the House network or from House Members' offices, stole the House Democratic Caucus Server, stole or destroyed House information technology equipment, or improperly accessed or transferred government information, including classified or sensitive information."
One of those "media children" coordinating with Trump and House Republicans was the MRC. In July 2017, Curtis Houck hyperventilated that Awan's arrest was part of a "disturbing story involving double billing, Hezbollah, smashed hard drives, and possessing the e-mails and files of leading congressional Democrats," citing, yes, Fox News and the Daily Caller. He added: "So, we have a shady I.T. staffer and his family running a firm that possibly compromised the e-mails and files for a number of key congressional Democrats. To the casual observer, that would probably strike them as disturbing." A couple days later, Houck declared that the non-conservative media's failure to cover Awan's arrest to the MRC's satisfaction proves that "the media are aiding and abetting liberals in their nefarious behavior."
Meanwhile, white nationalist-loving NewsBusters blogger Tom Blumer huffed that an Associated PRess article on Awan's arrest"spun the news in the most favorable way it could for beleaguered Democrats, making Congresswoman Debbie Wasserman Schultz look like the victim as it headlined her spokesman's claim that she fired Awan Tuesday after learning of his arrest. The fact is that Schultz has been involved in obstructing investigations into Awan's activities for months" and that the article "was written to protect [Rep. Debbie] Wasserman Schultz and the Democratic Party."
Charles Dorfeuille cheered how "The Hill reporter Joe Concha put the media on notice"-- though he failed to identify Concha as a writer with a conservative bias -- for ignoring Awan's arrest and "valid questions on what the now-arrested former Dem staffer was doing on the computers of the multiple congressional offices he was working on." Tim Graham got in on the act, whining that newspapers were "ignoring or downplaying the Imran Awan-Debbie Wasserman Schultz scandal."
Blumer returned to get upset that the New York Times accurately reported that President Trump was hyping Awan's arrest to attack Democrsts, then once again to further whine that "the scandal's multi-faceted and outrageous developments" involving the "rogue Democrat IT staffer" weren't being covered in the media to his satisfaction.
Additionally, the MRC published a column by Michelle Malkin touting the "criminal theft and hacking probe of the House Democrats' information security systems" involving Awan and other family members.
To sum up: Instead of apologizing for the false conspiracy theories it spread about Awan, the MRC chose instead to complain that it and the rest of the conservative media were justly "mocked" for putting conspiracies ahead of facts. But then, the MRC is just not not that into correcting the record.
Posted by Terry K. at 2:44 PM EDT