WND Columnist Tries to Defend Ron Paul Over Racist Tweet
Topic: WorldNetDaily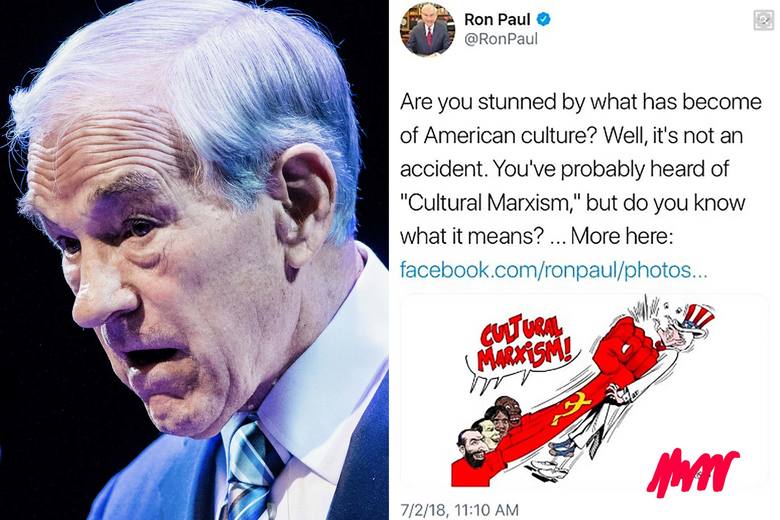 When you defend the indefensible, it's best to change the subject. That's what David Gornoski does in a July 4 WorldNetDaily column trying to deflect attention from a tweet attacking "cultural Marxism" using racist caricatures from Ron Paul's Twitter account. After acknowledging it was a bad idea and uncritically swallowing Paul's explanation that a staffer, not he, was responsible, Gronoski then attacks the media for reporting on it and then going far afield to attack both President Obama and Hillary Clinton for their yeasr-ago actions in Libya and Syria ... and then starts ranting about the "mental tomb" the media are purportedly in for not reporting on the good things Paul has done:
Obviously, it was a dumb mistake for a staffer to post an ugly cartoon. But no one of an informed, sound mind thinks Ron Paul approves of racial hatred. Since the 1970s, Paul spent an entire political career denouncing the prison industrial complex, war hysteria and majority rule oppressing minorities. In every appearance, he lectures about the importance of respecting individual personhood over collective group identities: an ethic that rejects racial tribalism completely.

When Ron Paul ran for president, he promised to pardon all nonviolent offenders in prison. He challenged the Bush, Clinton, Obama-status quo of bombing Middle Eastern countries and spying on Muslims, and protested the assassination of Anwar al-Awlaki's 16-year-old son, Abdulrahman, an innocent U.S. citizen. All things an honest press should do but refuse to this day.

[CNN's Chris] Cuomo is right. What we ignore we empower. CNN and most of the major media have continued to ignore and empower all the worst state atrocities Ron Paul has battled. Journalists like Cuomo rage against a cartoon gaffe with righteous fury. But their silence was deafening on Abdulrahman's execution by Obama.

[...]

CNN did not slam this horror with the righteous zeal they throw at Ron Paul over a stupid cartoon. They did not show the blood-soaked faces of Libyans crying out to God over how such evil wannabe gods can get away with destroying their homes and loved ones' bodies.

Where was Cuomo's call for Secretary Clinton to be fired for creating mass chaos in Libya?

[...]

The media desperately wants to blot out Ron Paul's message of truth and nonviolence from the history books. That is why they parrot the same lies to rewrite his legacy with their own myths that serve state power. But they will fail.

For now, we suffer the statist quo Cuomo and the PC media. They are whitewashed tombs – shiny on the outside for shaming rivals' politically incorrect speech, but inside hiding the bodies sacrificed by the state they adore.

Come out of your mental tomb, media myth-makers. See our neighbors – flesh and blood victims of war and prison. Who will hide their faces from your viewers? History stands with Ron Paul. The voices of the victims of state violence will be heard.
Posted by Terry K. at 8:42 PM EDT