CNS, MRC Keep Up Their Love Affair With Tim Tebow
Topic: CNSNews.com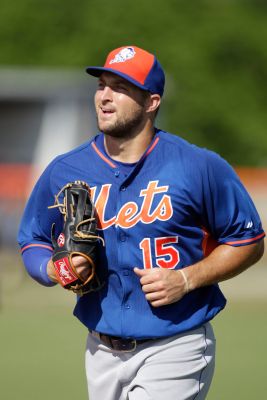 As the baseball season continues, so does the Media Research Center's love for former pro football player and current minor league baseball player Tim Tebow. CNSNews.com writer Michael Morris in particular loves the overtly Christian athlete.
In February, Morris wrote a blog post touting how New York Mets general manager Sandy Alderson was "making waves with his prediction that Tebow 'will play in the major leagues' at some point." Morris then listed a bunch of Tebow's minor-league stats, leaving the fact that he hit a miserable .226 for the season for second to last.
The MRC's Jay Maxson wrote his own version of Morris' post on July 1, substituting an ESPN host for Alderson in making the Tebow-will-play-in-the-majors prediction. Maxson largely ignored stats but enthused: "Tebow just made the Eastern League all-star team as a member of the New York Mets' Binghamton Rumble Ponies minor league team. After a sluggish start in April and May, Tebow had a sizzling month of June and gained newfound respect."
CNS followed up with a July 13 column by Eric Metaxas lionizing Tebow for his "unabashed Christian witness and pro-life beliefs" and declaring, "Those who think Tebow has returned to pro sports for glamour and glory do not understand Tim Tebow." This is also a bit of a retread, in this case of a 2017 column by Metaxas' "BreakPoint" colleague John Stonestreet, also published by CNS, in which he gushed that "what has long set Tebow apart, of course, is his Christian faith. It's drawn millions of people to love him."
Well, it has certainly drawn right-wing writers with an agenda to love him, anyway.
Posted by Terry K. at 10:45 AM EDT