MRC's Double Standard on Threats to Reporters
Topic: Media Research Center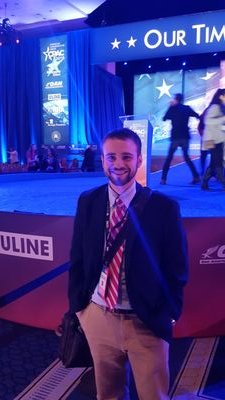 The Media Research Center's Curtis Houck was in high dudgeon in a July 9 post on Fox News correspondent Shannon Bream feeling threatened at a protest outside the Supreme Court. "This Is The Left," Houck declared in his headline, then argued why the alleged threats against Bream are real, while those against "liberal" jouranlists don't mean squat because it delegitimize the MRC's entire anti-media agenda:
For some time, the CNN media team have tried to delegitimize and squelch any media criticism from outside the liberal media bubble under the guise of it being responsible for triggering death threats and creating a culture of verbal harassment against journalists (most notably at Trump rallies).

Throw in past scenes of harassment against White House officials, Senators, Trump supporters, and anyone not fully onboard with The Resistance and it's no surprise that the next step for the perpetual leftist, violent mob is to go after conservative reporters or anyone not with, say, CNN or MSNBC.
Funny, we don't recall Houck screaming "This Is The Right" when the crowd at a Trump rally threatens a reporter.
Houck followed up two days later by attacking another reporter at the same protest, ABC's Terry Moran, for saying that he didn't feel threatened. Houck dismissed Moran's statement as "mansplaining," then huffed in yet another sneering attack on CNN: "If Moran did that to, say, Jim Acosta, it would be a five-alarm five at CNN. Because we all know how it goes over there when an old lady at a Trump rally or a man in front of him at a White House event shouts at him."
But Houck and the MRC do not value the lives or safety of "liberal" reporters like Acosta as they do conservative reporters like Bream. For instance, Houck rather deliberately did not quote what that "old lady at a Trump rally" said to Acosta:
Approximately three hours before Trump took the stage in West Columbia, an elderly woman walked right up to me and ordered me to leave the venue. Her language would likely make her grandkids blush.

"Get the f*** out of here," she told me. "Out of here. Out. Out. Out. Out."

As she screamed at me, she was waving a campaign sign for South Carolina Gov. Henry McMaster, who would later share the stage with Trump to receive his endorsement for another four years in office. The hundreds of people in the crowd roared with approval.

I tried to shake her hand but she refused.

"No," she said. "Out. Out. Out."

"Ma'am I have every right to be here," I reminded her.

"Out. Out. Out," she continued. "You are scum. Get out of here."
That apparently didn't warrant a screaming "This Is The Right" headline at the MRC -- and Houck would be screaming bloody murder if someone had spewed that to Bream at, say, a Hillary Clinton rally, and he certainly wouldn't be mocking Bream for having her feelings hurt by it.
We've already highlighted how the MRC cheered Trump's verbal attacks on NBC's Katy Tur during the 2016 election -- attacks the MRC likely helped prime -- that have led to Tur being escorted from Trump events under Secret Service protection.
Houck did this again in a July 5 post by mocking the very real idea of verbal attacks on journalists going violent by, again, making the threat about himself and portraying such legitimate concerns as an "insidious ploy" to "mention outside media criticism (like the Website you're currently visiting) in the same breath as actions and threats of physical harm against journalists."
Houck concluded his "mansplaning" post by declaring, "The arrogance of the liberal media will never grow any less infuriating." But if Bream worked for a media outlet other than Fox News, Houck wouldn't care about her safety either. That's the height of right-wing arrogance.
Posted by Terry K. at 12:36 AM EDT