WND Frets Again About Not Enough White People
Topic: WorldNetDaily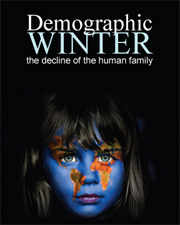 For years, WorldNetDaily has fretted about low birth rates among white people, compared with the swarthy, Muslim-y hordes who want to immigrate to Europe and the U.S., which usually takes place under the "demographic winter" euphemism. That fretting pops up yet again in an anonymously written July 12 article that starts off with the usual code words -- the words "white" and "Christian" are absent, instead obliquely referring to "Europe's native population" -- but ultimately descends into right-wing huffing about "diversity" and "Islamic piety":
Newly released European Union figures show deaths surpassed births in 2017 among Europe's native population.

The office Eurostat released the report ahead of World Population Day on Wednesday, reported LifeSiteNews.

The EU saw 5.3 million deaths and 5.1 million births in 2017 while the overall population increased from 511.5 million to 512.6 million due to immigration.

The report found Ireland retained the highest birth rate and lowest death rate in the EU, making its natural population growth five times higher than the EU's average. Births also continued to outnumber deaths in Cyprus, Luxembourg, France, Sweden and the United Kingdom.

Brian Stewart writes at The Federalist that Europe has been "importing a considerable mass of people on the unspoken assumption that more diversity in a society will invariably breed ever more tolerance."

"Worse, this massive influx has been accompanied by an austere and often fervent Islamic piety; and this has been doubly dangerous," he said.
That anonymous writer almost let his pro-white agenda out of the bag.
Posted by Terry K. at 12:40 AM EDT