CNS Lets Right-Wing Rabbi Rant Again
Topic: CNSNews.com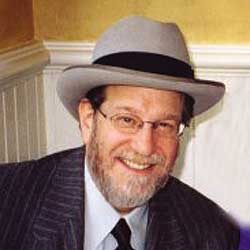 CNSNews.com has given loopy right-wing rabbi Aryeh Spero another platform in the form of a July 3 column in which he rants about a "never-ending blitzkrieg from the media to topple President Trump." After getting the name of the Democratic Party wrong (using the silly right-wing epithet "Democrat Party"), Spero rushes to the defense of the Trump administration on its treatment of refugees at the border, taking particular offense to said treatment being likened to Nazi treatment of Jews:
The Nazis separated families as part of a first phase of forced labor and murder of Jews, an entire race. We, in contrast, are taking care of these children—probably better than they're normally taken care of—during the days of necessary investigation. No animus is intended on our part, or on the part of President Trump, AG Sessions, or the Department of Homeland Security.
Spero then served up a decidedly political interpretation of the Bible:
Some left-wing organizations calling themselves religious, but who are more so socialist, condemned the President for not "welcoming the stranger." In fact, years back Barack Obama quoted the Scripture "Thou shall not Afflict the Stranger" as justification for shooting down anyone who disagreed with his borders-as-sieve policy and granting a full basket of entitlements to all who come here, even illegally. But welcoming the stranger refers to individuals, not an invasion of millions, certainly not a calculated importation of millions. It's about treating decently a stranger temporarily in the land; not about making it easy for would-be terrorists, gangs, and criminals to blithely enter; nor is it about forgetting that newcomers can't come to feed and live off the sweat of others. It is not "affliction" to require standards.

Welcoming the stranger was not intended by the Bible to be a national suicide program. The Bible itself speaks of the blessing of impenetrable borders. Welcoming the stranger is a directive for not being cruel to people, harassing or torturing them, as was the practice in many ancient societies and still practiced today toward "infidels." Democrats could take a lesson in decency, and stop harassing Republicans.
Note that Spero references Obama but does not acknowledge that he was president. That's because Spero spent years in a state of hysteria pushing his own Obama-hating blitzkrieg at CNS.
Posted by Terry K. at 10:47 PM EDT
Updated: Sunday, November 11, 2018 6:42 PM EST