WND Attacks Mizzou Football Team For Taking A Stand Against Racism
Topic: WorldNetDaily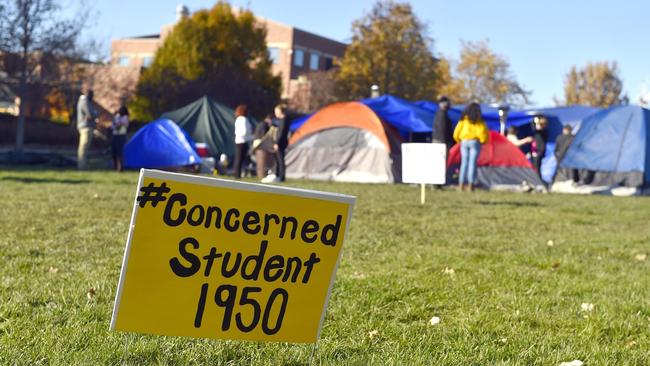 Race-baiter Colin Flaherty isn't the only one in the ConWeb who feels the need to attack the University of Missouri football team for taking a side on racially charged incidents on campus. WorldNetDaily joins the bashing in an unbylined Nov. 10 article:
It wasn't the campus radicals who forced the administration at the University of Missouri into defeat.

It was the football team.

But the team's record off the field has some commentators crying foul. And ostentatiously missing from the hype over the team's activism over claims of racism on campus are details of the other claims that have erupted.

Claims of sexual assault against team members. And rape.

Within hours of African-American football players at the school declaring they were on strike until the school's president was booted, both President Tim Wofle and Chancellor R. Bowen Loftin had resigned.

Gary Pinkel, Missouri's head football coach, supported the strike, which the Kansas City Star tied to Pinkel's "experiences with civil rights and activism in the past."

But what is perhaps more relevant is Pinkel's experience as a coach of a football team with a problematic record regarding sexual assault and violence against women. Several recent investigations allege the University of Missouri has been negligent in handling claims of sexual assault and rape against multiple members of the football team.
WND also trotted out columnist Gina Loudon -- who devoted a column to rationalizing her teenage daughter dating a middle-aged actor -- to complain about thepurported "hypocrisy" of criminal black football players (they appear to be one and the same at WND) making a civil rights stand: "To overlook sexual assault by athletes and turn around and hail them as heroes shows these people are about an agenda and they don't really care about how flawed that agenda is."
Both Loudon and Jesse Lee Peterson -- who, as far as we know, have never visited the Mizzou campus -- go on to assert that there are no racial issues there:
"One thing I am 100 percent sure of is that they were not concerned with racial justice because there is no racial problem there," he said to WND. "The whole thing by black students that they don't feel protected and they're not safe – is a lie, it's an illusion, it's just a way to manipulate and to put fear into the president of the school and others so they can get rid of them and replace them with people who are going along with them. And they are mostly liberals who are racist against whites and oppose conservative blacks and the Republicans."

Loudon concurred.

"I don't buy that there is even a real issue here," she charged. "I reject the premise that there is a racial situation at hand on Mizzou campus at all. It is created by those who endeavor to use blacks and other minorities."
WND also echoed Flaherty by suggesting that the football team's record disqualifies them from speaking out, noting that "The team is 4-5 on the season and has lost four in a row." At least WND didn't call the team "subliterate," like Flaherty did.
Posted by Terry K. at 8:46 AM EST