A Short History of the MRC's Semi-Birtherism
Topic: Media Research Center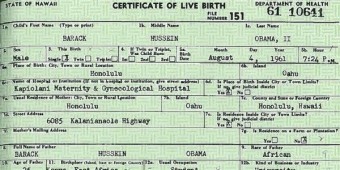 Bryan Ballas complains in a Sept. 2 NewsBusters post that the Washington Post did an article on right-wing pastor Rafael Cruz's assertion that his son, Sen. Ted Cruz, is eligible to run for president, blaming the author for bringing up "a long settled birther issue" (never mind that it was Rafael Cruz who brought it up and that the Post is merely reporting what he said). Ballas further complained that the Post article noted that "Rafael Cruz himself has made birtheresque jabs at President Obama," adding, "One can only hope this was a filler piece and not the first sign of a long pattern of birther mud slinging."
So the Media Research Center has now decided that birther conspiracy theories are "mud slinging"? That's interestiing, because the MRC never really took that aggressive of a stance regarding birtherism as applied to Obama. While the MRC didn't exactly further Obama birtherism, it also did little to counter it.
Let's take a look back at how the MRC handled Obama birtherism, which mixes semi-denouncements with semi-endorsements:
Vespa is being dishonest by suggesting that non-conservative media ignored the birther issue: FactCheck.org was pointing out that Obama's birth certificate was genuine as far back as August 2008, and the Associated Press reported in November 2008 that the state of Hawaii confirmed that Obama was born there.
If only the MRC had suspended its hatred for the 44th president and wrote articles affirming Obama's eligibility, it would be more likely that the "idiocy" of Taitz, Farah, et al, could have been kept from tarring the right-wing media. But it did not -- after all, letting the accusation hang so that the president was damaged by it was more important than building the credibility of right-wing media.
That strategy has come back to haunt right-wing media as a whole and the MRC in particular. Because the sections of right-wing media that fancy themselves more "respectable," like the MRC (not to mention Fox News, which was also a promoter of birther claims), wouldn't aggressively shoot down the birther conspiracies, birtherism has remained an issue. The MRC's silence back then means it has little basis to complain now.
Posted by Terry K. at 8:11 PM EDT
Updated: Sunday, September 6, 2015 8:16 PM EDT