WND Gives An Award To A WND Author
Topic: WorldNetDaily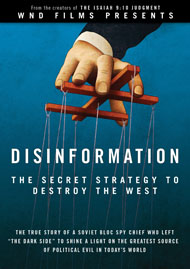 A Jan. 8 WorldNetDaily article by David Kupelian tells of WND's giving a "Lifetime Achievement Award," complete with gushy interview, to Ion Mihai Pacepa, a former Romanian intelligence official who defected to the U.S. during the Cold War.
What Kupelian doesn't mention in his gushiness: Pacepa's book "Disinformation" was published by WND.So there isn't much of an actual honor here -- it's more of a self-promotion than anything. Indeed, WND's 2012 honoree, Phyllis Schlafly, later had a book published by WND.
Lest anyone miss that message, there are numerous links to purchase "Disinformation" and its "companion film" from the WND online store. And Kupelian's article concludes by noting anothermoney-making opportunity: "Finally, WND is proud to announce that, having optioned the movie rights for Pacepa and Rychlak's 2013 'Disinformation' blockbuster, RiverRock Films is moving ahead with planning and production of a major theatrical movie based on the book."
It seems that one might call the idea of WND's award having any sort of prestige ... disinformation.
Posted by Terry K. at 8:27 PM EST
Updated: Saturday, January 10, 2015 8:30 PM EST