WND's Molotov Mitchell Puts On A Suit, Runs For State Senate In NC
Topic: WorldNetDaily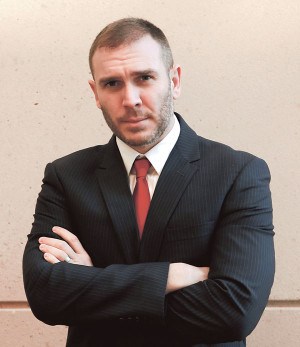 PoliticsNC reports that WorldNetDaily's very own Molotov Mitchell is running for a state senate seat in North Carolina. He's got an uphill climb toward victory; PoliticsNC states that Mitchell "is running in a strongly Democratic district, and his opponent is none other than Josh Stein, the Democratic Senate Minority Whip. Stein has been in office for almost six years now and appears to have a secure hold on this seat."
Needless to say, ol' Molotov has to do a lot of whitewashing to make himself palatable. He's covered up his "Zealot" tattoos with a suit and tie, and he's endeavoring to cover up the far-right extremism that he could get away with at a fringe website like WND but can't in the real world.
Mitchell's campaign website is already a model of whitewashing. For instance, here's what his "issues" page states about LGBT issues:
As a Christian, Molotov strongly supports the concept of "free will".

People must be free to live however they see fit, and they have a constitutional right to do so. At the same time, people also have the freedoms of speech and religion, which can create conflict over issues like gay marriage. Censorship and bullying (from either side) will only exacerbate the problem. Molotov firmly believes in a democratic solution. While Washington often weighs in on these sensitive matters, it is ultimately the job of North Carolinians to vote and settle them at the state level.
This ignores the fact that Mitchell advocates "the abolition of homosexuality" to the point that he effectively endorsed a proposed law in Uganda that would execute homosexuals.
Mitchell's website is also silent on the fact that he's a birther.
The website includes pictures of Mitchell's wife, but doesn't mention that she posts videos at WND under the name D.J. Dolce, where she has proven herself to be at least as homophobic and birther-obsessed as her husband.
Mitchell's website also whitewashes the nature of WND, described only has having "been ranked the 2nd most trustworthy news websites by Discerning Times. As we've documented, Discerning Times is part of a so-called news operation run by a cult-like church in a small town in Oregon, and it exists mainly to proclaim the innocence of a church pastor facing child-sex charges. That's how much this "2nd most trustworthy" designation is worth.
While we know all about the Mitchell family's extremism, the big question is whether North Carolina media will point it out to voters, or if they will accept Molotov's whitewashing and make no attempt to investigate his record.
Posted by Terry K. at 8:30 PM EDT
Updated: Tuesday, July 15, 2014 8:37 PM EDT