Hostile Joseph Farah Pretends He's Not Hostile To Gays
Topic: WorldNetDaily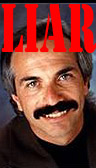 Joseph Farah devotes his July 11 WorldNetDaily column to taking offense at the idea that Christians are hostile to gays. Needless to say, Farah does so in a way that makes his hostility all too clear.
What set Farah off this time was an article about pro-gay evangelicals "committed to ending their church's longstanding hostility toward gay people":
Let me first say that this is a hellishly bigoted comment by people who claim to be fighting bigotry.

Secondly, evangelicals come in all shapes and sizes and beliefs and don't belong to one church.

Lastly, the idea that evangelical Christians have a longstanding hostility toward homosexuals is a lie by the reporter, the publication and the misguided organization that is attempting to make sinners comfortable in their sin – an idea repugnant to all forms of biblical Christianity.
And let the hostility begin:
Today, in the popular culture, it's cool to be "gay" – a word that has been hijacked by a political movement that embraces sin.

Experience more of Joseph Farah's no-nonsense truth-telling in his books, audio and video products, featured in the WND Superstore

It may be popular to embrace sin today, but those who do so in the name of Christ are the ones who are truly hostile and unloving to homosexuals. They are actually condemning them to death.

There's an old expression in Christianity very relevant to this discussion: "Love the sinner, hate the sin."

That's what true evangelicals believe.

Showing love to the sinner means evangelizing them. Chaplains who evangelize murderers on death row don't tell them they were just practicing an alternative lifestyle. They confront them with the sixth commandment and attempt to bring them to repentance. It's an act of selfless love.

Likewise, evangelizing homosexuals requires that their sin – not just their sexual practices, but all of it – is confronted.

There is nothing loving about rationalizing sin as an alternative lifestyle.
Note what Farah does here -- he plays linguistic games by putting "gay" in scare quotes because he doesn't like gays co-opting the word, and he denies medical reality by portraying homosexuality as an "alternate lifestyle."
And in a final Orwellian twist, Farah declares his hatred of gays is really love:
This movement is not about rejecting bigotry as it claims. It is about creating a new form of bigotry – against those with sincerely held, biblically supported worldviews.

In effect, it is a movement that redefines sin. It's a new religion that allows man to decide what sin is rather than God. The new sin is "homophobia" – the imaginary fear and loathing of those who practice homosexuality.

Where does this lead?

It leads to forcing Christians to violate their own consciences, as is beginning to happen in the U.S.

It leads to state-sponsored anti-Christian and anti-biblical indoctrination in schools.

It leads to so-called "hate-speech" laws, which punish people not so much for what they do but what they might think.

It leads to persecution and martyrdom.

And it leads to eternal separation from our Creator-God.

None of that is good. None of that is happy. None of that is "gay." None of that is tolerant. None of that is merciful. None of that is compassionate. None of that is loving.
Farah's so-called news organization unambiguously hates gays (except for that one guy). And Farah himself is such a homophobe that he thinks anyone who calls him out on his homophobia wants him (and America) to undergo "forced homosexualization."
Does God really approve of Farah's homophobic methods? Farah probably thinks so, but the vast majority of thinking Christians probably differ.
Posted by Terry K. at 12:11 AM EDT
Updated: Wednesday, July 16, 2014 12:12 AM EDT