MRC Complains That Media Isn't Repeating Its False Attack On Obama
Topic: Media Research Center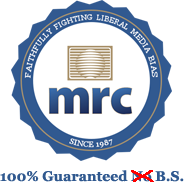 A July 1 Media Research Center item by Geoffrey Dickens carries the headline "89 Percent of Network Stories Omit Obama's Role in Causing Border Crisis." Dickens apparently hasn't considered the fact that this is because Obama didn't.
Dickens asserts that "the President's own failure to enforce immigration laws" is "a cause for thousands of immigrants illegally crossing the U.S.-Mexican border." But in the very next paragraph he backs off, writing that it is only a "possible cause." That suggests that even Dickens knows he's making a claim not supported by fact.
Dickens then claimed that Obama "extending the Deferred Action for Childhood Arrivals (DACA)" is allegedly one of "the ways the Obama administration has encouraged the flow of illegal immigrants." But DACA would not apply to any of the current refugees; to be eligible, an undocumented immigrant must have "continuously resided in the United States since June 15, 2007, up to the present time."Therefore, DACA cannot possibly be attracting these immigrants.
Curiously, Dickens is silent about the actual root cause of the current border crisis: drug violence in Central America. Even MRC subsidiary CNSNews.com has acknowledged that drug violence is to blame.
The only evidence Dickens provides to back up his attack on Obama is a generic link to MRC Latino's Facebook page and a link to an earlier MRC piece he wrote that simply quotes a Univision commentator blaming Obama (and also failing to mention the drug violence).
If you're ignoring basic, documented facts the way Dickens does, there's no way to take his "media research" seriously.
Posted by Terry K. at 1:30 PM EDT