WND Fails At Defending Todd Akin Through Attacking Hillary Clinton
Topic: WorldNetDaily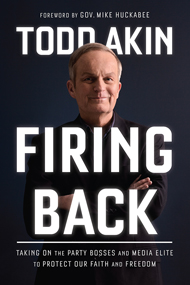 WorldNetDaily's highly questionable campaign to promote Todd Akin's new book by trying to defend his indefensible comments about "legitimate rape" took a completely expected partisan turn in a June 26 article, in which WND and Akin try to make hay off Hillary Clinton's long-ago defense of a man accused of sexually assaulting a child:
Hillary Clinton apparently didn't like a challenge from Todd Akin that she "de-legitimized" a 12-year-old rape victim's claim in defense of a perpetrator she knew to be guilty as charged, as reported in the London Daily Mail Wednesday.

So she fired back in a retort to Politico Thursday through her rapid-response team: "Nobody should take advice from Todd Akin on women's rights following his opposition to equal pay laws, his opposition to choice and opposition to rape protection laws, and his belief that women's bodies 'shut down' during 'legitimate rape' to block unwanted pregnancy," said communications director Adrienne Elrod.

Akin, a member of the House from Missouri who was attacked for a comment about "legitimate rape" during a 2012 campaign for the U.S. Senate, quickly responded in kind.

"It is curious to see that the Clinton camp chose to assassinate my character rather than to address my basic charge," he told WND. "It is not so much that Hillary Clinton defended a child rapist – lawyers are required sometimes to do those things. But how can Ms. Clinton say she is for women's rights when she laughed her way through an interview about getting a man she knew to be guilty off the hook for raping a 12-year-old?"

[...]

The interview took place in 1980, and recordings were recently unearthed at the Clinton Library in Little Rock. She conceded in that recording to seizing on loopholes to minimize the sentence of the man accused of raping a 12-year-old girl. Heard laughing in the recording, Clinton said the polygraph test her client managed to pass "forever destroyed my faith in polygraphs."

Akin tasked the media with making clear that "liberal Democrats like Bill Clinton and Hillary Clinton are the true perpetrators of the 'war on women.'" He added that by laughing while discussing the case, Clinton "de-legitimized the legitimate claims of the 12-year-old victim," and that she "slandered the victim to justify her tactics."
Akin seems to be unfamiliar with the American system of law in which defendants get a defense lawyer. It's absurd -- not to mention un-American -- for Akin to believe that a man does not deserve a legal defense because many people believe he's guilty. Clinton was assigned to the man's case and was required by law to provide the strongest defense she could.
Further, it's clear from the full context of her remarks that Clinton was laughing about the legal process, not getting a criminal off. Akin also provides no evidence that Clinton "slandered" the 12-year-old victim.
The WND article then descends into its usual boilerplate defense of Akin's "legitimate rape" remarks, suggesting that some rape claims are "an excuse to avoid an unwanted pregnancy" because "There have been women who have lied about being raped."
If Akin is automatically presuming that any rape claim is automatically false because some undetermined number of women have lied about it in the past, that's hardly a solid defense of his remarks.
Posted by Terry K. at 12:02 AM EDT