WND Wants To Turn Rancher Dispute Into Another Ruby Ridge
Topic: WorldNetDaily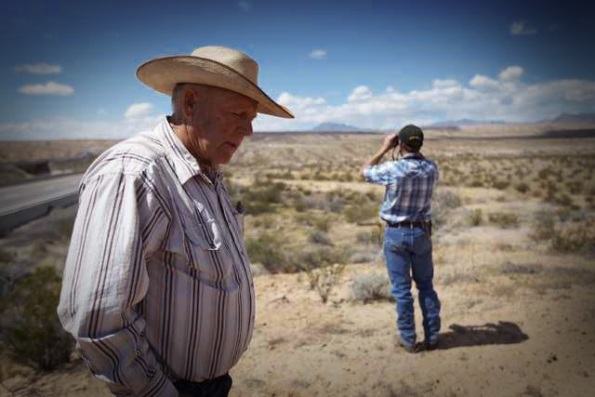 WorldNetDaily sure does love to hook up with right-wing poster boys with unsavory backgrounds that must be whitewashed. They've found another one in a Nevada rancher with a propensity for violent rhetoric -- and they're ready to escalate things.
An April 9 WND article by Jack Minor sets things up in a WND-friendly way:
Federal officials have now taken to killing the calves and cattle of a Nevada rancher as part of a standoff that his family says has the potential to become another Ruby Ridge, where, in 1992, federal agents shot an unarmed Idaho woman holding a newborn infant in her arms.

"We have seen cows with tight bags but no calves on them, who are being moved by the BLM," Ammon Bundy told WND. "This means they have separated the newborn calves from their mothers and they will eventually die."

Ammon, 38, is the son of Cliven Bundy, a Nevada rancher whose ties to the area go back to the 1880s and who has been engaged in a land dispute since 1993 with the Bureau of Land Management over long-established cattle-grazing rights.
Minor gives the other side of the story short shrift, making no effort to interview federal officials and blaming the federal government for "taking steps to escalate the situation" while ignoring the fact that Bundy is the one who has made sure the situation escalated by violating the law for two decades.
Minor also ignores Bundy's history of violent rhetoric, which would seem to justify the federal show of force.
An April 11 WND article by Art Moore touts how Bundy is drawing support from "private armed militias," which have "made the confrontation over Bundy's use of federal land for grazing a rally cry." Moore waiyts until the 44th paragraph to mention a statement from federal officials that Bundy has been breaking the law for 20 years. Like Minor, Moore made no apparent effort to contact federal officials.
If the Bundy situation does escalate, WND's biased reporting will have done its part in making sure that happens.
Posted by Terry K. at 8:04 PM EDT