Newsmax's Hirsen Tries To Portray 'Noah' As A Failure
Topic: Newsmax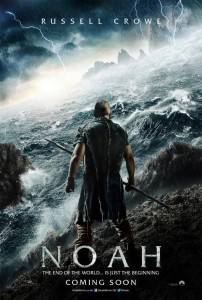 "Noah" was the biggest-grossing movie in the country on its opening weekend, so Newsmax's James Hirsen had to figure out a different way to attack it. His answer in his March 31 column: Market research!
The much-talked about, biblically questionable big-screen release "Noah" finished its debut weekend with a better than expected $44 million in box-office take. But when it comes to the movie's long-term success, there are some dark clouds lurking on the horizon.

CinemaScore is a highly regarded market research firm that polls film audiences and rates their viewing experiences with letter grades. The firm reports its results and forecasts box-office receipts based on data collected.

CinemaScore's representatives routinely survey opening-day audiences in 25 of the largest movie markets in North America to determine a grade ranging from A+ to F for the respective film. Most movies receive a minimum of "B+" as a CinemaScore grade, with anything less being cause for concern for the studio and filmmakers involved.

The controversial "Noah," which was delivered to the screen by Paramount and director Darren Aronofsky, received a dismal CinemaScore of "C" from moviegoers.

Despite the buoyant box-office showing, the "C" CinemaScore rating seriously jeopardizes the movie's chances in the all-important weeks to come.

[...]

If "Noah" should take a precipitous fall in the weeks to come, it may turn out to be an unprofitable venture for Paramount. According to the studio, the budget for the movie was $125 million, a relatively modest number for a current studio blockbuster.

However, several reports indicate that a significant additional sum was spent on marketing and distribution, so it remains to be seen whether the movie will be in the black months from now.
Well, perhaps not. Box Office Mojo notes that "Noah" is very popular outside the U.S. -- as of this writing, it has taken in $73.6 million in the U.S. but more than $106 million overseas for a total gross of $179.8 million. That means the film has made back its production costs and at least a part of its marketing in less than two weeks of release.
Posted by Terry K. at 10:25 AM EDT