WND Makes It Clear: It's Promoting Birtherism Out of Hatred for Obama
Topic: WorldNetDaily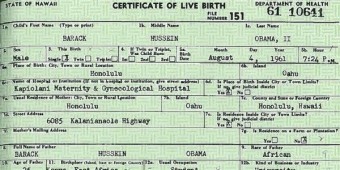 Bob Unruh inadvertently gives away the game in an April 11 WorldNetDaily article, in which he notes that President Obama's birth certificate is "an issue that remains unresolved for some of his harshest critics."
What Unruh doesn't say: In order for Obama's "harshest critics" to consider the birth certificate "issue" to remain "unresolved," those critics must deny reality by pretending their concerns have never been addressed, though they have.
Unruh is apparently among those reality deniers, because he spends much of his article rehashing -- well, copying-and-pasting from earlier articles -- evidence purporting to call into question Obama's eligibility to be president without acknowledging those concerns have been discredited.
Thus, by deliberately ignoring reality, Unruh and WND are essentially admitting that they are perpetuating the birther conspiracy solely out of spite afor a president they hate.
Unruh also repeats his earlier dishonesty on the subject by relaying an Alabama Supreme Court ruling shooting down yet another birther lawsuit by quoting only the opinion of birther justices who dissented and completely ignoring the prevailing opinion that Alabama state officials were under no legal obligation to verify the eligibility of a presidential candidate.
On top of all that, Unruh served up this sneering derision of the president:
"And just to be clear I know where my birth certificate is," he said. "But a lot of people don't. A lot of people don't."

He was smirking, "Ha, ha."

"I think it's still up on a website somewhere," he said. "Ha, ha, ha, ha."

Then he took a long pause.

"You remember that? That was crazy," he said. "That was some crazy stuff. Ha, ha, ha.

"I hadn't thought about that in awhile," he said, shaking his head. "Ha, ha, ha. Ha, ha."
Perhaps if right-wing activists like Unruh were to acknowledge reality by reporting actual facts about Obama's birth certificate instead of rehashing discredited attacks,
Posted by Terry K. at 9:41 PM EDT