WND's John Rocker Can't Stop Whining About Being Accurately Quoted
Topic: WorldNetDaily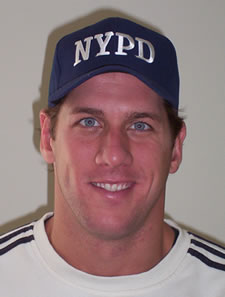 It seems that one reason John Rocker has a WorldNetDaily column is so he can continue to whine about being accurately quoted in a 2000 Sports Illustrated profile of him and bash its author, Jeff Pearlman. Rocker does this again in his April 8 column, though this time he decides to own his bigotry:
The benefits I've gained far outweigh the detriments. There truly is no such thing as bad publicity. The things I've been able to do; the doors that have opened; the places I've been able to go and the famous/influential people I now consider friends in large part stem from the notoriety created by that SI piece. I know that was not Pearlman's intent, but that's how it's turned out as I look back over the last 14 years from a bird's eye view.

Most individuals who only played six years in the Major Leagues would not have the ability to pull off some of the things I have simply on name recognition. Most players who possess a similar resume in professional baseball would not have had the material to write an autobiography and then use that as a platform to aid many adolescents during their difficult maturation process. And many players who boast my mediocre level of success in sports could not have started an organization for homeless veterans and accomplished all that we have in just two short years.

But because of Sports Illustrated and the recognition that has come along with it, I still have a voice that people listen to 14 years later. I still get interview requests from names like Geraldo Rivera, Neil Cavuto and Michael Savage where I proudly spread the word about Save Homeless Veterans. I don't know too many Big Leaguers who haven't seen action in 11 years that can still do that.
Rocker takes his usual pot shots at Pearlman, calling him "a belligerent, vindictive individual" and mocking him for now writing for a "glorified 'blog' site," gloating that "he's not employed by any reputable news outlet." Given that Rocker's column is published by an outlet no sentient human being would describe as reputable, he might want to rethink that insult.
P.S. For all of his whining about SI and attacks on Pearlman, not once does Rocker claim, let alone prove, that he was misquoted.
Posted by Terry K. at 12:31 AM EDT