MRC's Double Standard on Misleading Information About Climate Change
Topic: Media Research Center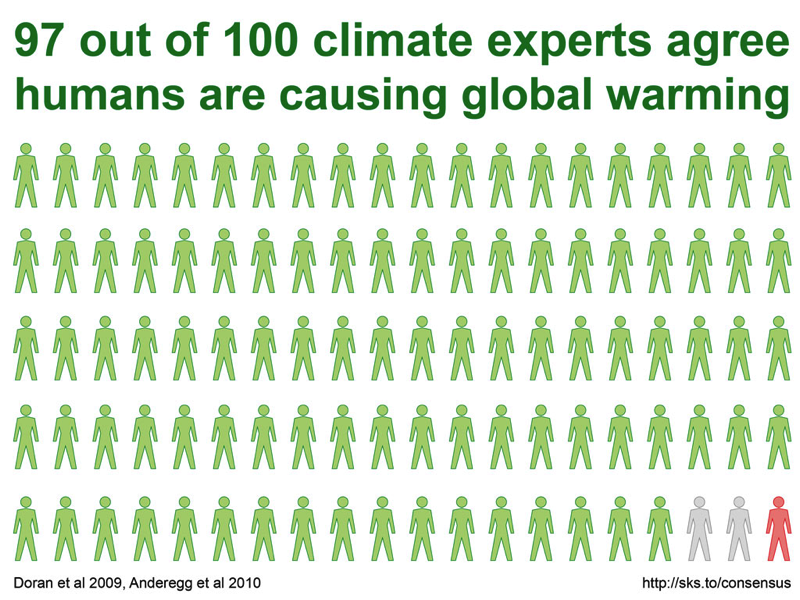 Mike Ciandella uses a Jan. 23 Media Research Center Business & Media Institute item to complain that claims that "97 percent of scientists agree that humans are causing climate change" are misleading. But Ciandella is not above misleading to promote the opposite view.
Ciandella misleads by claiming that it's 97 percent of "scientists" who have reached that consensus. In fact, it's 97 percent of climate scientists -- the folks who actually study climate change.
This is an important distinction when addressing Ciandella's response to that claim: "There are many scientists who disagree with so-called 'consensus' on global warming. On Dec. 20, 2007, a report released by the U.S. Senate Environment and Public Works (EPW) Committee revealed more than 400 prominent scientists questioning anthropogenic climate change."
That claim comes out of a 2007 report issued by former MRC employee Marc Morano in a previous role as PR flack for global warming deniers in the House of Representatives. But if you look at the list of scientists, relatively few of them have any expertise in climatology -- there are specialists in physics, mathematics, nuclear physics, geology, philosophy, computers, chemistry, astronomy and space, which are largely, if not completely, unrelated to climatology.
Additionally, there are millions of people in the world who could be considered scientists, and Morano never provided any evidence that his list of 400 is statistically significant.
Morano is a known (and presumably well paid) bamboozler about climate change, and Ciandella knew where to go to try and further shoot down the 97-percent claim as it applies to research papers on climate change, even if he had trouble spelling the guy's name correctly: He called on "Mark Morano of Climate Depot" to call such a claim a "misdirection." Ciandella wrote:
Morano argued that the number of research papers during this time period alone isn't a compelling factor, even if the numbers had been accurate. According to Morano, since global warming is the "state sponsored science of the day," many scientists will incorporate mention of it into otherwise unrelated studies, in order to qualify for grants.

"If a scientist studies butterflies, he may choose to do a model 'if/then' study on how warming temps 100 years from now may impact butterflies," Morano said. "The butterfly scientist may never even look at the probability temps may rise a certain amount, only on how rising temps would theoretically impact butterflies."
Morano's lament of lack of specialization is the very same argument that discredits Morano's own list of 400 scientist "skeptics." Ciandella completely ignores that inconvenient fact.
Posted by Terry K. at 9:16 PM EST
Updated: Tuesday, January 28, 2014 9:18 PM EST