WND Touts Conference Featuring Bogus Election Fraud Claims, Won't Tell Readers They're Bogus
Topic: WorldNetDaily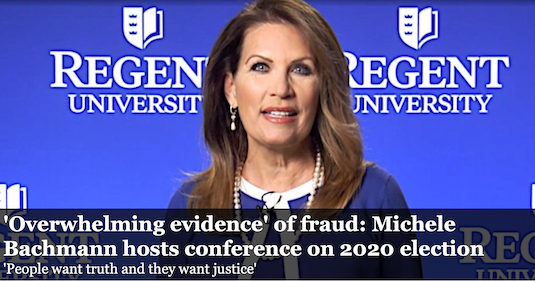 Art Moore credulously wrote in a March 24 WorldNetDaily article:
A former Republican member of Congress who ran for president, Michele Bachmann is now the dean of the graduate school of government at Regent University in Virginia Beach, Virginia.

Noting some polls show nearly half the country still doesn't believe Joe Biden won the election, she put together a seven-hour virtual conference Tuesday called "Analyzing American Election Integrity."

The university, she told WND in an interview Wednesday, simply was a "forum for letting speakers put evidence out – it's their opinion, not ours – and then let people decide for themselves."

Some presenters, such as election experts John Fund and Hans von Spakovsky, addressed the general issue of fraud and the Democrats' controversial For the People Act while making no judgment about the outcome of the 2020 vote.

Others, such as former White House trade adviser Peter Navarro, presented evidence to back their insistence that President Trump was the true winner.

Bachmann said her aim was to pull together the evidence "and let people decide for themselves: Was this a true and legitimate outcome or not?"

"And I'll tell you the evidence was overwhelming that it was not," she said. "People want truth and they want justice."
Moore went on to uncritically summarize claims made by presenters at the conference, such as touting how "Navarro is the author of a three-part report presenting evidence from six battleground states he believes Trump won." WND has previously touted Navarro's claims -- but didn't tell readers many were bogus.
Moore also highlighted the appearance from Gateway Pundit's Jim and Joe Hoft: "The Hoft brothers presented evidence, including video footage they obtained from Detroit's TCF Center on election night, that they have compiled from among the 1,700 articles they have published on the election." But Moore seems to have forgotten that WND previously promoted their claim -- then had to append a correction after it was prove that the video didn't show what thet Hofts claimed it did.
Meanwhile, Jim Swift of the conservative site The Bulwark did what Moore wouldn't and detailed the craziness and general factual inaccuracy of the conference: "Enough falsehoods were spewed by the speakers sponsored by Pat Robertson's school yesterday to merit two-dozen rebuttal articles." Swift also added:
Many of the panelists brought up (you guessed it) GEORGE SOROS. I didn't count how many times this bogeyman's name was invoked, but if you had watched yesterday's livestream while playing a drinking game with the sole rule of having another shot every time someone said "Soros," you'd soon have been under the table. Which, come to think of it, might have been the best way to experience this travesty.
It was a total mess, but Moore won't tell you that because he's getting paid to perpetuate the false narrative of the election getting stolen from Trump.
Posted by Terry K. at 2:35 PM EDT