WND's Farah Still Pushing Election Fraud Lies
Topic: WorldNetDaily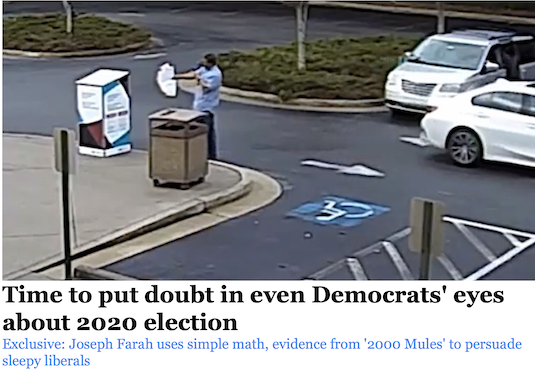 WorldNetDaily editor Joseph Farah just loves pushing discredited claims about purported election fraud, and he hasn't stopped. He ranted in his Aug. 15 column:
Think about it.

It makes all the sense in the world.

"Disqualifying" Donald Trump from the 2024 presidential race – or something worse – gets us no closer to being a free nation.

I know it's unthinkable, but think as if our country is depending on Trump, as though our very lives depended on him – because maybe they do.

We're not likely to figure out all the ways the 2020 election was stolen.

We're not likely to "prove" it was stolen – to the satisfaction of Trump's enemies.

We're not even likely to hold Big Tech responsible for the vast conspiracy of 2020 – or dismantle it before the next election.

We can't even have the one "conservative" cable network in the U.S. MENTION the possibility of grand theft of our election – let alone all the many ways it was carried out.

We can't even have debate or dialogue about the recent film "2000 Mules." It's unmentionable.
Perhaps that's because there was, in fact, no "grand theft of our election" -- certainly none has ever been definitively proven -- and "2000 Mules has been thoroughly discredited, to the point that even the True the Vote subjects of Dinesh D'Souza's fraudulent film are desperate to move on.
Farah used his Aug. 22 column to do a bit of word-twisting to claim that Joe Biden "tipped" that he would steal the 2020 election:
But I will never forget something Biden said June 10, 2020.

He may have tipped off that this election would be rigged.

It was in a letter the campaign wrote so Biden couldn't botch it up.

It was the first time the topic of "election disinformation" came up.

"Tens of millions of Americans rely on Facebook as a news source," the letter quoted Biden. "But the company continues to amplify misinformation and lets candidates pay to target and confuse voters with lies."

Now get this. The letter had these specifics for Facebook, which surprised CEO Mark Zuckerberg, who probably thought he was doing enough for Biden in terms of millions of dollars going to Democratic voter outreach in swing states, like Wisconsin's famous nursing-home scam in which caretakers cast votes 99% for Biden without even asking their charges – some of them were comatose.

But no sir. This is what the Biden campaign was asking:

Promoting authoritative and trustworthy sources of election information, rather than the rants of bad actors and conspiracy theorists;

Promptly removing false, viral information;

Preventing political candidates and PACs from using paid advertising to spread lies and misinformation – especially within two weeks of election day;
Having clear rules – applied universally, with no exceptions for the president – that prohibit threats and lies about how to participate in the election.

[...]

Five months after the Biden letter, it was clear what happened. We all had our suspicions about why. Let's just say the nation was in shock. It would take many months for people to see the movie "2000 Mules" that showed us just how the election was stolen.
Of course, WND has more than proven itself to be a less-than-trustworthy source of information on election or pretty much anything else, so it's easy to see why Farah might feel threatened by that. He went on to huff:
A post-election poll conducted by McLaughlin & Associates showed that 36% of Biden voters were not aware of the evidence linking Joe Biden to corrupt financial dealings with China through his son Hunter. Thirteen percent of these voters (or 4.6% of Biden's total vote) said that had they known these facts, they would not have voted for Biden.

Such a shift away from Biden would have meant President Trump would have won reelection with 289 electoral votes.
That, of course, is a poll that the Media Research Center bought from McLaughlin -- who was Trump's pollster, so its objectivity is very much in question -- to prove its version of Trump's Big Lie.
Farah was still at it in a Sept. 6 column:
I figure most Democrats never bothered to see the documentary "2000 Mules." Perhaps, they didn't even know about it because it was kept quiet by even Fox News, and that is a shame. After all, Fox was involved in an important role in the fix – the calling of Arizona way too early. (Of course, they fired all their crack "experts" immediately after the call.)

Almost two years later, I think it's worth a shot urging Democrats to see the film.

But that's a long shot.
Why would anyone want to see a film that's been so thoroughly discredited? Farah didn't explain. Instead, he doubled down:
It's understandable that the polls were out of whack in 2020. Joe Biden was never expected to get anything like the astonishing vote toll he got. Like I said, it was IMPOSSIBLE. The fix was in. Biden would get whatever he needed – especially in the five states of Arizona, Pennsylvania, Michigan, Georgia and Wisconsin.

It's possible that the vote for Trump was much stronger than predicted and that Trump not only won all five but several others as well.

"2000 Mules" proves that Trump won those five states hands down. If you're curious enough to see why Biden's vote total was hyped beyond any reasonable tally pollsters were expecting, maybe you should see "2000 Mules," just for the mathematics of it.

I know. There aren't that many Democrats convinced of voter fraud. But if you're just a little concerned with the unanimity from Republicans and independents, maybe this is worth your attention.

And aren't you a little concerned about why it's verboten to say what's on so many minds?

Isn't it still OK as a free American to say what seems obvious?

Never mind how weird and fascist Democrats seem to acting. Never mind that Democratic leadership seems to be actively suppressing a real movement among MAGA folks. And never mind how they have are actively courted Big Tech to repress that movement.

Instead, open your mind and seek the truth.
The fact that Farah is so desperately cling to this discredited film shows us that he won't "seek the truth" -- he has a narrative to push, and he isn't about to let pesky things like facts get in the way.
Farah did some more twisting the next day, insisting that Biden clearly misspeaking was an admission he was stealing the election:
He can't stop telling us about 2020, in no uncertain terms, or hinting about it openly when he's around the right crowd – his fans.

We first heard him say it when it was very much on his mind Oct. 24, 2020, on the eve of the election. You remember?

He said, when it was very much on his mind before his election against Donald Trump, "We have put together, I think, the most extensive and inclusive voter fraud organization in the history of American politics."

It wasn't a hate crime yet to say what he said, odd though it was – maybe even a little creepy.

[...]

But if Biden can't stop talking out of both sides of his mouth, there will more outrage about his candor than his performance as an illegitimate "president," a stand-in, a "fill-in meant to fool some of the people" to get the job done until he completes it, as he explained just days ago.

Biden is clearly his own worst enemy – the worst "president" in history bar none.

He's a laughingstock internationally for what he's done to the country. And a comfort to its enemies.

Vote accordingly, and it just might bring the Deep State down – if we're lucky.

Just take a look at what comes up when you choose any search engine besides Google and type in the words, "Is Biden his own worst enemy?" or "Biden sticks his foot in his mouth."

He can't help himself. He's so hopelessly cognitively challenged.
Farah has not questioned the cognitive skills of Trump for repeatedly insisting he won an election that all credible evidence shows that he lost. Perhaps that same behavior should raise questions about Farah's cognitive skills as well.
Posted by Terry K. at 3:03 PM EDT
Updated: Friday, September 30, 2022 3:05 PM EDT