WND's Kupelian Warns Of Liberals Redefining Things -- As He Insists 1/6 Insurrection Was A 'Demonstration'
Topic: WorldNetDaily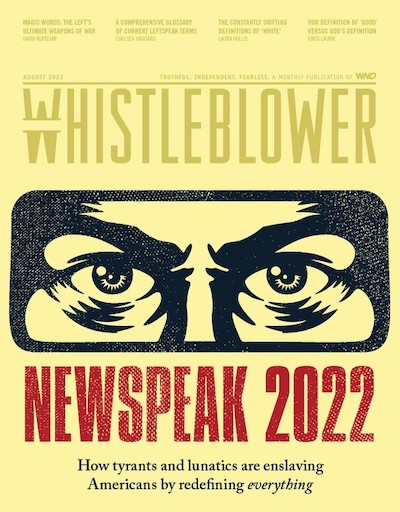 The August issue of WorldNetDaily's sparsely read Whistleblower magazine is themed "Newspeak 2022," which dedicated to complaining that liberals are redefining evil things to make them good. As usual, it's based around a rant-filled essay by managing editor David Kupelian:
The elites are changing America's language itself, so that people's words – and therefore, their very thoughts – inevitably come under the control of the ruling class. It's a way of bending reality in real time, so that what is actually illusion appears to be true, while what is real and true can readily be discredited as lies, misinformation, "extremist rhetoric" and "conspiracy theories."

Thus, the unprecedented, banana-republic-style raid on the home of former President Donald Trump by dozens of armed FBI agents was not, you see, a raid at all, insists the Ministry of Truth (i.e., virtually the entire elite media). "The execution of a search warrant isn't a raid," Americans were told condescendingly. "It's a judicially overseen process!"

Oh. So the massive, unannounced, armed police raid on a U.S. president's home wasn't a "raid." But the Jan. 6, 2021, demonstration in the U.S. Capitol by that same president's supporters, who had every reason to suspect the 2020 election had been stolen – was an "armed insurrection," even though not one protestor was armed nor did their actions in any way amount to an "insurrection." Nevertheless, Vice President Kamala Harris insisted the Jan. 6 "insurrection" was every bit as infamous and awful as the raid on Pearl Harbor and the 9-11 terror attacks, each of which killed thousands of Americans. Change the definitions of words and you change everything.
Of course, Kupelian's the one redefining things, pretending that an attempt to overthrow the government because Donald Trump can't mentally handle the fact that he lost an election -- in which numerous law enforcement officers were injured, some so badly they cojmmitted suicide later -- was just a "demonstration."
There's a COVID rant too:
Well, at least the COVID pandemic seems to be waning, thanks to the vaccines, right? Wrong. In reality, the experimental shots the government forced on virtually everyone in the country do not work, as even its key salespeople like Anthony Fauci and Deborah Birx now openly admit. But wait: All vaccines prevent people from contracting and transmitting a particular disease – that's literally what vaccines have always done! How, then, can these shots, which we now know do not work as vaccines, and which have become irrefutably associated with many deaths and serious side effects, possibly be called "vaccines"? That's easy: The CDC quietly changed its official definition of "vaccine"! And that, ladies and gentlemen, is how you turn an untested, unproven, experimental gene therapy into a "vaccine"; simply change the definition of something everybody in the world has trusted and revered for more than two centuries, since the first smallpox vaccine, and re-tool the "official" definition of that almost sacred word to apply to whatever your flawed, unproven shot actually does.
Needless to say, Kupelian is lying. As we've previously noted, the vaccines do work; while the previous generation of COVID vaccines offered less protection from catching COVID as the virus mutated into the Omicron variant, they do reduce the risk of hospitalization and death, even among those who have previously caught COVID -- hardly "unreliable." And the new generation of vaccines should do a better job of catching the Omicron variant.
Kupelian had one mnore rant of note:
All of this Orwellian tampering with language might not be quite as necessary in a nation that has never known freedom. But in the United States of America, where tens of millions of citizens are very well acquainted with genuine, God-blessed liberty – indeed, where so many have fought, bled and died to preserve it – the ruling elites find it necessary to redefine, and thereby corrupt the meaning of, everything in order to enable actual violent extremists, domestic terrorists, racists and fascists to implement the real insurrection. Theirs.
Says the guy who spreads lies and misinformation to WND readers on a daily basis. No wonder legitimate businesses want nothing to do with WND and Joseph Farah was continually beg for money to keep his dishonest website alive.
Posted by Terry K. at 5:53 PM EDT