MRC Rages That Non-Right-Wing Media Doesn't Hate Liz Cheney
Topic: Media Research Center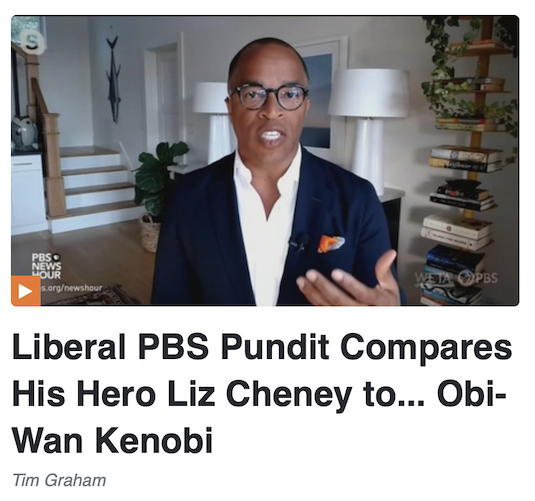 The Media Research Center raged that a House committee was seeking accountability for the Capitol riot and the events leading up to it, so it's unsurprising that the MRC made a particular target of Republican Rep. Liz Cheney for serving as the committee's vice chairman -- because Republicans are apparently supposed to ride and die with Donald Trump and the MRC will tolerate no criticism of him, especially from a fellow Republican.
Last year, the MRC tried to insist that Cheney's ouster from House leadership for being insufficiently pro-Trump wasn't news at all and demanded that non-right-wing media stop covering it. In a September 2021 post, Nicholas Fondacaro complained that a CBS report on partisan Republican hearings on the U.S. withdrawal on Afghanistan noted that Cheney came to the defense of Joint Chiefs Chairman General Mark Milley. Her presence on the 1/6 committee drew specific attacks from the MRC:
But as Cheney faced a Republican primary challenge for her Wyoming seat from a Trump-endorsed opponent, the MRC was happy to make her a target.In a June 30 post, Kevin Tober complained that CNNM's Don Lemon "ma[d]e his case for why Democrats should vote for Liz Cheney in a Republican primary for the sole reason that she hates former President Donald Trump just as much as they do," going the whataboutism route:
Lemon is now using CNN's airwaves to lobby for Democrats to sabotage the Republican primaries in Wyoming. Keep in mind the leftist media melted down when conservative talk radio legend Rush Limbaugh launched "Operation Chaos" and encouraged his listeners to switch parties and vote for Hillary Clinton in the 2008 Democratic Primaries to prolong the process.
Tober didn't mention that the MRC had no problem with "Operation Chaos," making him a hypocrite trying to deny the same opportunity with the political stakes reversed.
Graham spent his July 25 podcast whining that the non-right-wing media doesn't hate Cheney -- who he tried to loosely tie to Al Gore -- as much as he does:
Then there were the Liz Cheney interviews. On CNN, Jake Tapper offered a series of softball questions about how the Pelosi-picked January 6 panel would proceed, and then in a second segment, underlined how Cheney would probably lose her congressional primary in Wyoming because she's for "the truth." Then Tapper asked her if she would run for president. As with Al Gore, this was more a compliment than a serious question. Which state would Liz Cheney win when she's dramatically unpopular among Republicans?
Graham whined further in an Aug. 7 post about non-right-wing non-hatred of Cheney:
On Friday's PBS NewsHour, liberal MSNBC Sunday host and Washington Post columnist Jonathan Capehart made a Star Wars analogy, comparing Liz Cheney to Obi-Wan Kenobi (and Trump to Darth Vader).
Anchor Judy Woodruff played a Liz Cheney campaign ad, with her dad, former vice president Dick Cheney, attacking Trump as a "coward." Woodruff said "They don't come much more conservative than Dick Cheney."
Graham's Aug. 10 column groused that Cheney was getting praise for likely losing her seat because she stood up for principle:
As the Wyoming primaries approach, The New York Times is already preparing the post-election spin boosting the post-congressional exploits of Liz Cheney. The August 8 front-page headline was "Cheney Ready to Lose a Race, But Not a Fight."

Times reporter Jonathan Martin laid it on thick: "She has used the Aug. 16 contest as a sort of a high-profile stage for her martyrdom – and a proving ground for her new crusade." Martyrdom? She's not being burned at the stake like Joan of Arc, even if that's the kind of moral high ground the liberal media coverage suggests.

She's losing her race "in part because of death threats, her office said."

Her new crusade is the media's old crusade. The pull quote on the back of the front section read: "If the cost of standing up for the Constitution is losing the House seat, then that's a price I'm willing to pay." Martin also insisted "she has become arguably the most consequential rank-and-file member of Congress in modern times."

She will be "consequential" if the January 6 Committee somehow helps ruin Donald Trump before 2024. Cheney is only "rank-and-file" because she was tossed out of the House Republican leadership for seeking an entirely new constituency: The New York Times, The Washington Post, and the alphabet of liberal TV networks.

[...]

Liz Cheney proves that no politician can be both the biggest darling of the liberal media and a viable candidate for Republican leadership.
Graham didn't epxlain why holding those responsible for the Capitol riot accountable for their actions is a principle no Republican should embrace.
Scott Whitlock then served up a series of flashback whataboutism posts:
Now that journalists see Liz Cheney as a heroic Joan of Arc, willing to be burned at the political stake, it's good to sometimes remind everyone of the seething hatred many in the liberal media had for the daughter of Dick Cheney. -- Aug. 13
NBC journalists need to decide who Darth Vader is in their tortured political analogies. On Tuesday's Today, Hallie Jackson said to an on-screen colleague, "[Let me] raise you a Star Wars analogy." But back in 2011, Dick Cheney was the evil Vader. -- Aug. 16
Journalists have been eagerly cheering Cheney 2.0 as the GOP's Joan of Arc, willing to be burned at the political stake for principles. ... But a simple look into history shows that journalistic love for a Republican is entirely dependent on how useful that person is to liberal press. In the past, the news and entertainment media despised the "toxic" "daughter of Dracula," freely using sexist language to mock the child of Dick Cheney. -- Aug. 17
Whitlock didn't tell his readers that Cheney has ceased to be useful to Republicans because she is holding Trump accountable for his actions or why the GOP should put party before honor and responsibility. And he's done this before; he complainined in a May 2021 post that "While NBC's Today show was eager to hail Wyoming Congresswoman Liz Cheney for bashing fellow Republicans during an exclusive interview on Thursday, back in 2012, the broadcast questioned whether her father, former Vice President Dick Cheney, deserved a life-saving heart transplant."
Posted by Terry K. at 9:04 PM EDT
Updated: Wednesday, September 28, 2022 9:08 PM EDT