Newsmax Kept Up Post-Raid Pro-Trump Stenography
Topic: Newsmax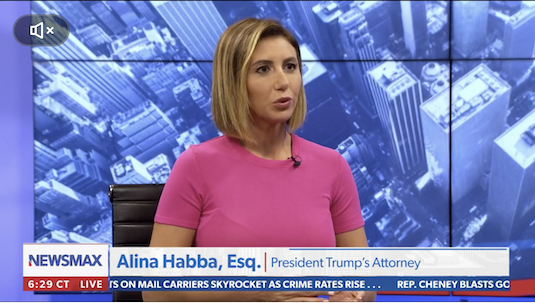 We've documented how Newsmax went into full Trump defense mode immediately after after the FBI search of his Mar-a-Lago compound for classifed documents. It continued that defense mode for several days afterward. Its coverage on Aug. 11, three days after the raid, relegated Attorney General Merrick Garland's statement that he approved the raid to a wire story. featured the usual stenography of pro-Trump toadies:
Newsmax did offer a little more balance this day, though: One article noted that "Former White House acting chief of staff Mick Mulvaney said 'somebody very close' to Donald Trump tipped off the FBI before the bureau's raid at Mar-a-Lago, another noted a Washington Post report that "classified documents relating to nuclear weapons" were being sought in the search, and yet another article surprisingly highlighted how hated Republican Rep. Liz Cheney "blasted her fellow GOP lawmakers for the ''sickening'' attacks they have directed at the FBI agents who executed a search warrant at former President Donald Trump's Mar-a-Lago home, saying the comments are putting lives at risk."
The top stories on Aug. 12 involved the pro-Trump talking point of the day, that the classified documents seized from Mar-a-Lago were supposedly declassified by Trump before he left office. One article touted how Trump claimed he had "the power to classify and declassify documents," while another, by the apparently unironically named Charlie McCarthy, hyped that "White House documents that former President Donald Trump brought with him to Mar-a-Lago had been declassified, Trump allies said," while burying the balancing viewpoint that "Trump foes, however, reject the notion a president can declassify documents so easily" in the last few paragraphs of the article.McCarthy also whined that "Former CIA Director Michael Hayden made a comment on social media that seemed to promote execution for leakers of nuclear secrets."
Then it was Trump sycophancy time:
There was also one more piece of Trump misdirection stenography, courtesy of Jeffrey Rodack:
Former President Donald Trump said former President Barack Obama kept 33 million pages of documents, many of them classified, and speculated that quite a few pertained to nuclear weapons.

Trumps comments came in a statement released Friday: "President Barack Hussein Obama kept 33 million pages of documents, much of them classified. How many of them pertained to nuclear? Word is, lots."

A New York Post column claimed Tuesday that at the end of his presidency, Obama took 30 million pages of his administration's records, vowing to digitize them and put them online. The column, by author James Bovard, said the National Archives reveals that no pages have been digitized or disclosed.
In fact, the Obama records that were moved to Chicago are unclassified and remain in possession of the National Archives; the classified documents remain at a National Archives facility in Washington, D.C. Obama has no personal possession of any of those documents.
Newsmax served up more of the same on Aug. 13:
It did, however, also publish a wire story noting a report that "A lawyer for former U.S. President Donald Trump signed a statement in June that said all classified material held in boxes at Trump's Mar-a-Lago residence had been returned to the government" -- an apparent false statement, which governmental agencies tend to frown upon.
Even more pro-Trump stenography was delivered on Aug. 14:
There was also an article on a statement by press secretary Karine Jean=Pierre that the White House is not interfering or otherwise "involved" in the investigation into Trump.
On Aug. 15, McCarthy returned to serve up some painfully unironic stenography of Trumpoffering "to do 'whatever I can to help the country' during 'a dangerous time' following the FBI's raid of his Mar-a-Lago home." and that the "temperature has to be brought down" McCarthy didn't mention, of course, that Trump is primarily responsible for raising that temperature -- even though a few hours earlier, he wrote an article touting Trump's inflammatory claim that the raid was "a 'sneak attack on democracy' that was conducted purely for political reasons." The usual cascade of Trump lackeys followed:
And there was still more on Aug. 16:
Newsmax also served up a reader poll asking if the raid was "an abuse of power" and if FBI director Christopher Wray should resign, adding, "Newsmax will provide the results of this poll to major media outlets. Newsmax's results also will be shared with popular radio talk-show hosts across America." It's a meaningless poll nbecause it's an opt-in poll for a highly biased audience.
Posted by Terry K. at 2:07 PM EDT
Updated: Tuesday, September 13, 2022 10:11 PM EDT