CNS' Coverage Of Biden Student Loan Forgiveness Plan Laden With Right-Wing Attacks
Topic: CNSNews.com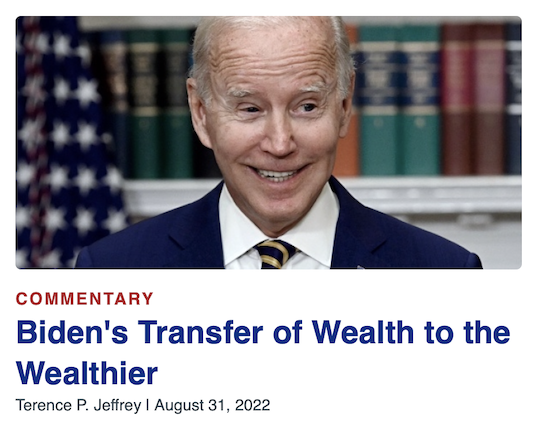 As talk of President Biden possibly forgiving student loans heated up over the summer, CNSNews.com cranked out articles repeating right-wing attacks on the idea:
When Biden finally annouced his plan to forgive up to $20,000 in student loans, CNS really went on the attack:
It wasn't until an Aug. 25 article that Jones got around to quoting Biden himself talking about it -- and, as usual, she included editorial comments despite claiming to be a reporter. After mentioning the income limits, she parentheticallysnarked; "But note the income levels above -- $125,000 or $250,000 – the new 'working class'?"
Craig Bannister complained that Biden's plan caused hated Democratic Rep. Alexandria Ocasio-Cortez "to post a celebratory tweet and flashback video" stating that ""Student loan debt is immoral." He added "While Biden's move frees some Americans from their student loan debt, it forces American taxpayers to pick up the hefty tab, Fox News notes."
Another article by Jones groused that Biden adviser Susan Rice congratulated people who paid off their student loans and won't give a number on how much the forgiveness plan would cost. That was followed by another article simiarly grousing that Education Secretary Miguel Cardona "said the 'targeted' relief will help everyone, including those who have repaid their loans."
Jones went on to play gotcha with Pelosi, rehashing the earlier "flashback" article:
In a statement on Wednesday following President Biden's announcement on student debt relief, House Speaker Nancy Pelosi hailed the move by the executive branch:

"President Biden's bold action is a strong step in Democrats' fight to expand access to higher education and empower every American to reach fulfillment," she wrote:

[...]

Contrast her approval of Biden's announcement with what Pelosi said last year.
CNS then served up more right-wing attacks on both the "news" and editorial side:
Jones snarked some more in an Aug. 26 "news" article: "No one knows for sure how much President Biden's student loan forgiveness plan will cost. But reporters keep on asking." She then rehashed a column by her boss, Terry Jeffrey, accusing Biden of spending toomuch money; as we've documented, Jeffrey's metricsconveniently omitted the trillions of dollars in debt racked up under Donald Trump.
Jones worked to put the "liberal" stamp on student loan forgiveness in an Aug. 29 article, hyping that "Both Bernie Sanders (I-Vt.) and Elizabeth Warren (D-Mass.) say debt forgiveness was the right thing to do, and they both advocate making public colleges and universities tuition-free."
Jeffrey returned with an Aug. 31 column falsely accusing Biden's plan of" transferring wealth from people who earn less to people who earn more." In fact, most of the debt relief will be seen by lower-income Americans. Nevertheless, he ranted:
It is not an act of compassion, but of theft.

It unjustly transfers wealth from Americans who did not go to college to those who did, and from Americans (and their families) who did pay for their college and gives it to colleges that charge too much and to former students who will now pay less than they owe.

It is an elitist expansion of the welfare state.
Managing editor Michael W. Chapman belatedly served up an Aug. 30
article
summarizing how "Many conservatives and Republicans denounced President Joe Biden's plan to transfer student loan to the U.S. taxpayers, an action that could cost over $600 billion." Chapman simply served up lazy stenography and made no effort to verify or fact-check the claims of his fellow ideologues.
Posted by Terry K. at 2:01 AM EDT