CNS' Jeffrey Dishonestly Bashes Deficits Under Biden, Gives Trump A Pass
Topic: CNSNews.com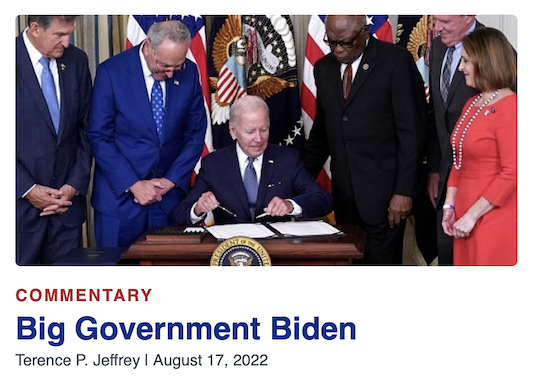 CNS editor Terry Jeffrey's dishonesty about federal government spending continues in his Aug. 17 column:
In the first 18 full months that Joe Biden has been president — February 2021 through July 2022 — the federal government has spent $9,728,646,000,000, according to data published in the Monthly Treasury Statement.

Even when the historical spending numbers are adjusted for inflation into July 2022 dollars (using the Bureau of Labor Statistics' inflation calculator), no recent president comes close to having spent that kind of money in their first year and a half in office.

President Donald Trump spent $7,274,266,740,000 in July 2022 dollars in his first 18 full months. President Barack Obama spent $7,166,360,490,000. President George W. Bush spent $4,835,392,120,000. President Bill Clinton spent $4,287,553,940,000. President George H.W. Bush spent $3,705,774,660,000. President Ronald Reagan spent $3,123,980,640,000.

It is true that the United States is a more populous country now than it was in July 1982, when Reagan completed his first 18 full months in office, but federal spending has grown significantly faster than the population.
It's also true that Jeffrey made no mention of mitigating factors that explain the higher early-term spending under Obama and Biden -- there was a recession at the start of Obama's presidential term and a pandemic at the start of Biden's -- and there was no such financial crisis at the start of Trump's term. And picking the first 18 months of a presidency conveniently allows Jeffrey to also omit the pandemic-related spending -- and related deficits -- during the final year of Trump's presidency.
Jeffrey went on to target Biden further:
Biden is the spending champion of American presidents — both in total overall spending and per capita spending.

But that is not his only achievement. He has also been collecting record taxes.

[...]

Yet despite the record taxes the Biden administration is collecting, the administration is still running a deficit.

According to the data published in the Monthly Treasury Statement, the federal government ran a cumulative deficit of $2,765,962,000,000 from February 2021 through July 2022.

The only president who ran a bigger deficit in his first 18 months was Obama, whose cumulative deficit hit $2,975,995,260,000 in constant July 2022 dollars in the period from February 2009 through July 2010.

The $2,765,962,000,000 deficit that Biden has run in his first year and a half in office equals approximately $8,310 for each of the 332,838,183 people in this country.
Again, Jeffrey failed to mention that much of the deficit Biden started with at the beginning of his presidency came under Trump, who had racked up nearly $8 trillion in deficits during his presidency. Also going unmentioned by Jeffrey is that the federal deficit will be dropping from $3.13 trillion in fiscal year 2020 -- the last year of Trump's presidency -- to an estimated $1 trillion for the current fiscal year ending Sept. 30.
But Jeffrey doesn't care about reporting facts -- an odd stance for a guy who runs an alleged "news" organization -- he merely wants to attack Biden. He concluded by complaining about the the spending toa address climate change in the Inflation Reduction Act and how the bill "includes the terms "greenhouse gas" and "greenhouse gases" a combined 138 times," going on to sneer: "If there is anything emitting gas these days, it is the man in the Oval Office."
Or the man in the corner office at CNS.
Posted by Terry K. at 8:26 PM EDT