MRC Suggests Dark Soros Conspiracy To Redefine Recession At ... Wikipedia?
Topic: Media Research Center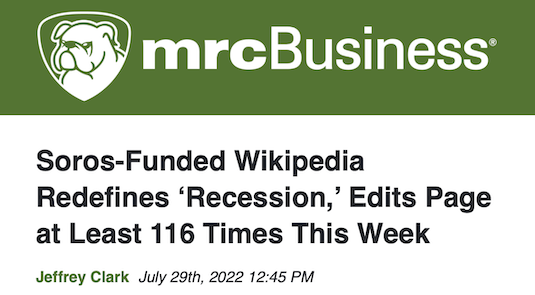 The Media Research Center has been screaming loudly that the U.S. is in a recession, President Biden is the only person who could possibly be responsible, and only a rigid definition of two quarters of negative GDP counts as the definition. It even roped its favorite conspiracy target, George Soros, into its recession obsession. A July 26 post by chief MRC Soros obsessive Joseph Vazquez suggested Soros was behind a grand conspiracy to redefine a recession:
The White House attempted to gaslight Americans by casting confusion over the meaning of a recession. But did it take its cues from a major publication funded by liberal billionaire George Soros?

The White House Council of Economic Advisers (CEA) released propaganda July 21: "It is unlikely that the decline in GDP in the first quarter of this year—even if followed by another GDP decline in the second quarter—indicates a recession."

Three days earlier, major liberal global publication Project Syndicate released a column by Jeffrey Frankel, a Harvard economist and research associate of the National Bureau of Economic Research, which bloviated the same talking points: "[E]ven if the [Bureau of Economic Analysis] estimate is negative, however, it does not necessarily mean that the US has entered a recession."

Frankel further gaslighted that "a US recession is not defined as two consecutive quarters of negative growth." But a publication from Frankel's own institution – the Harvard Business Review – even noted in a 2019 research article that recessions are "defined as two consecutive quarters of negative economic growth."

Frankel even went so far as to suggest that "contrary to popular belief, first-quarter growth was not necessarily negative," even though first-quarter GDP growth contracted 1.6 percent. The BEA is set to release second-quarter GDP numbers July 28.

Soros' Open Society Foundations funneled at least $1,532,105 into the spin-doctor Project Syndicate just between 2018 and 2020 alone. Project Syndicate boasts about its so-called "unparalleled" global reach. It notes that it is currently active in 156 countries, works with 508 media outlets and has had its commentaries appear in 66 languages. In 2021, Project Syndicate distributed 1,385 columns and was published a total "of 20,393 times around the world."

Like Project Syndicate, Frankel also has ties to Soros.
In the world of Vazquez and the MRC, disagreeing with right-wing propaganda means you're spreading "propaganda" yourself.
A July 29 post by Jeffrey Clark bizarrely portraying Wikipedia edits as part of a Soros conspiracy:
Wikipedia, a site funded by George Soros, followed the liberal media's lead in shielding the Biden administration on bad economic news. The online encyclopedia literally redefined the word recession on its website in recent days.

The move sparked outrage on Twitter, with even Tesla CEO Elon Musk slamming Wikipedia in a viral tweet: "Wikipedia is losing its objectivity."

Wikipedia allowed at least 116 edits to the "recession" page on its site in the past week alone. It appeared to be an attempt to downplay the "technical definition" of recession, which is characterized by two quarters of negative GDP growth. After the government released a July 28 report revealing that GDP had indeed fallen for a second-consecutive quarter by 0.9 percent, some Twitter users speculated about whether the timing was pure coincidence.

The Wikimedia Foundation, which hosts Wikipedia, reported in 2018 that Soros committed $2 million to support the platform. "'The Endowment is not just a practical way to support Wikipedia,'" Soros said at the time. "'My gift represents a commitment to the ideals of open knowledge—and to the long-term importance of free knowledge sources that benefit people around the world.'"
Does Clark nor anyone else at the MRC understand how Wikipedia works? It's a user-edited website, and users are the ones who worked on the reession page. Clarkoffers no evidence whatsoever that Soros persoanlly directed anyone to edit the page, nor does he explain why he thinks Wikipedia management should meddle in content management -- which he would be attacking as "censorship" if the page in question involved something near and dear to the hearts of right-wingers like himself. Indeed, he complained that "MRC Business has yet to receive comment from Wikipedia on why so many changes were allowed before the second-quarter GDP report dropped early on July 28," apparently not understanding that limiting what edits are "allowed" is generally not something Wikipedia does.
The MRC's obsession with Soros is going further into la-la land.
Posted by Terry K. at 10:01 PM EDT