MRC's Jean-Pierre-Bashing, Doocy-Fluffing Watch
Topic: Media Research Center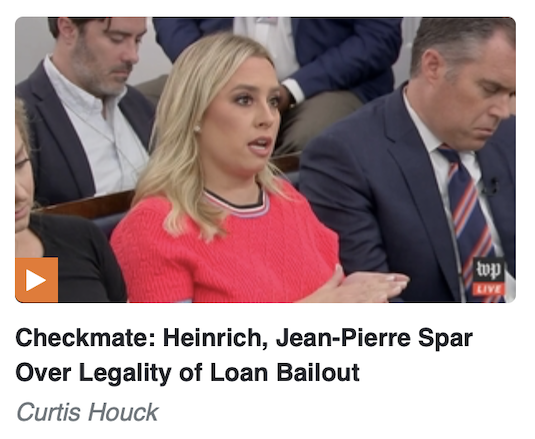 Curtis Houck began his attack on Karine Jean-Pierre's Aug. 24 White House press briefing by unironically whining: "Thanks to President Biden's seemingly endless vacations, Wednesday marked the first White House press briefing in 15 days." Houck never complained that White House briefings under Donald Trump were irregular at best -- with one press secretary refusing to hold any briefings at all -- and we don't recall him complaining about how much time Trump spent away from the White House at his properties. From there, it was back to his usual smears that Jean-Pierre was "stammering" and lacking "succinctness" while praising right-wing reporters Peter Doocy and Philip Wegmann as being "locked and loaded":
Wegmann got her [sic] turn in the first portion of the briefing with NEC Deputy Director Bharat Ramamurti when he asked Ramamurti whether it's"really bottom up, middle out" considering the fact that they "structure[d] this policy in a way that would provide up to $40,000 in debt [relief] for a married couple making up to $249,000."

[...]

Once her crutches (i.e. Ramamurti and [Domestic Policy Advisor Susan] Rice) were taken away, Jean-Pierre was on her own. Doocy eventually got his crack and, like usual, started with a short question: "[H]ow can the country afford such a massive handout?"

Jean-Pierre actually had the gall to reply that "Ambassador Rice said that she's happy to have that discussion" and that it's because Biden "brought down the deficit" by "$1.7 trillion" "at the end of the fiscal year."

Doocy countered: "And might spend $300 to $900 billion extra. So you can do that and not increase the deficit?"

Jean-Pierre had already run out of bullets, so she spent the remaining three-plus minutes with Doocy insisting "we are doing this responsibly" as it's &ldDoocy kept asking who'd cover the tab for these student loan wipeouts, but she had nothing [.]

[...]

With that filibustering answer at the end, Doocy interjected to put a stop to this and asked six more times, but all Jean-Pierre could utter was that she had "laid out" how it'll be done[.]
As if Doocy asking the same question six more times because he didn't like the answer he was given wasn't its own form of filibustering.
Houck wsent on the attack again over the Aug. 25 briefing:
Thursday's White House press briefing represented the massive political landmine that's become the Biden administration's plan to forgive $10 to $20 million in student loans for Americans making under $125,000 as, for the second day in a row, reporters from across the political spectrum had serious concerns about its legality, purpose, and rollout.
Actually, it's $10,000 to $20,000 -- so much for attention to factual accuracy, which surely translates to giving readers no reason to trust his highly biased attacks on Jewn-Pierre. Indeed, Houck blew past his factual error to fluff another right-wing reporter for spouting biased talking points:
Fox's Jacqui Heinrich got her first crack at Press Secretary Karine Jean-Pierre in a some time by pointing out a basic truth about the disconnect between the alleged legal justification for the bailout and the administration's rhetoric about the pandemic:

The Heroes Act hinges on student debt cancellation being tied to the pandemic and that being a national emergency, but the administration argued in court that the pandemic is over at the southern border to lift Title 42. It's so over that the government is going to stop buying vaccines in the fall and shift to the private sector.

"[H]ow is COVID a national emergency when it comes to student debt," she asked.

Jean-Pierre insisted "it's a good question and I'm glad you asked it," explaining the Heroes Act (which was enacted after 9/11 for first responders) fit "because there are going to be some people when we lift the pause that's still going to suffer" with their remaining student loan payments.

Heinrich asked if it's due to the economy, but Jean-Pierre insisted it was based on their earnings versus the payments since "the economy has been turned back on because of the work that this President has done."

Jean-Pierre inadvertently walked right into Heinrich's next point:

[T]he President often says...we're not in a recession because we've got...record job market, record low unemployment, businesses investing in America at record rates. So why are those appropriate conditions to forgive student debt?

Despite the record inflation and high gas prices, the press secretary acted as though Heinrich had done her a favor and thanked her "for laying out all the work that the President has done."

Heinrich closed with the reality that even the liberal "Washington Post editorial board says that...it, you know, takes money from the broader tax base, mostly made up workers who didn't go to college, to subsidize education debt of people with valuable degrees."

Heinrich added how, beyond that, "there are critics that are saying this is not about the pandemic. It's not about those conditions. This is about getting people to vote ahead of the midterms, that the real national emergency is Democrats in the midterm elections."

Jean-Pierre hit back that she "disagree[s] with everything that you just laid out" and noted that some Democrats are unhappy because it wasn't big enough.
The MRC was cointinuing to denigrate Jean-Pierre's TV appearances as well. Kevin Tober huffed in an Aug. 25 post:
On CNN's Don Lemon Tonight on CNN, host Don Lemon asked White House press secretary Karine Jean-Pierre to explain what President Joe Biden meant when he accused Republicans of holding a political philosophy of "semi-fascism." Since nobody in the country including, presumably, the President knows what that means, Lemon thought it would be wise to ask his spokesperson Jean-Pierre. Unfortunately for Lemon, it was clear she was struggling to define it as well.

Lemon got right to the question at the beginning of the interview: "the President likened what he called extreme MAGA philosophy to semi-fascism. What exactly is semi-fascism, Karine?"

Jean-Pierre went into a long monologue about what Biden has allegedly done for the country:

[...]

Clearly frustrated with her filibustering and avoiding the question posed to her, Lemon interjected "with all due respect. We have a short amount of time. I want to get to all those things But if you'll answer my question, we can get to those things."

Instead of answering, Jean-Pierre got snotty with Lemon shrieking "by having this back and forth we are actually taking away from the time."

Jean-Pierre falsely claimed Republicans are "attacking our democracy, they are taking away our freedom, and they are trying to put on the chopping blocks Medicare and Social Security."

[...]

Despite her lies and not actually defining what "semi-fascism" is, Lemon responded, "thank you for answering that question."
Tober didn't disprove any of the alleged "lies" Jean-Pierre told.
Posted by Terry K. at 9:02 PM EDT
Updated: Sunday, September 11, 2022 9:30 PM EDT