MRC Still Raging That Liz Cheney Got Praise For Standing Up To Trump
Topic: Media Research Center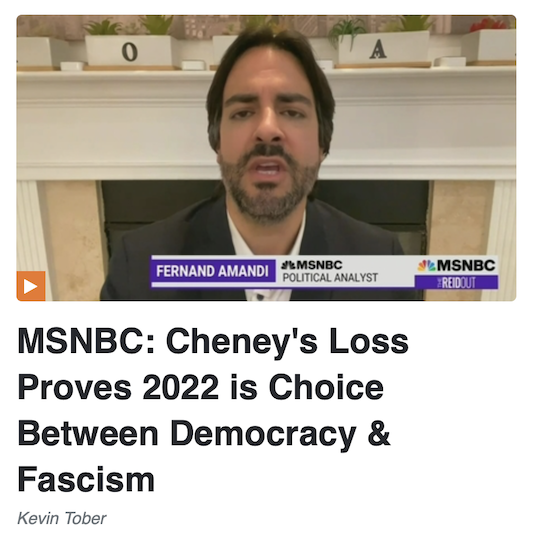 Even as Liz Cheney lost her Wyoming House seat in the primary to a Trump-endorsed opponent, the Media Research Center continued to be upset she was being portrayed as standing up for the principle of holding Donald Trump accountable (something the MRC has no interest in doing). Mark Finkelstein complained in an Aug. 17 post:
Not exactly the people you need to win a Republican presidential primary . . .

Given Liz Cheney's overwhelming defeat in yesterday's Wyoming Republican congressional primary, it would be a very uphill slog for her to win a national GOP presidential primary, should that be her goal for 2024. In a mark of just how steep that climb would be, on today's New Day, CNN cast the two legs of Cheney's base of support as . . . Democrats, and the Beltway media!
Scott Whitlock similarly complained in a post later that day:
NBC on Wednesday repeatedly lobbied Liz Cheney to run for president after she lost her renomination bid for Congress. Today co-host Savannah Guthrie also repeated the media-created comparison that Cheney is Obi-Wan Kenobi from Star Wars and Trump is Darth Vader.

Guthrie deemed "64 percent" of Republicans to be election deniers (without citing a source) and then lobbied for Cheney to outright call for Democratic victory in 2022: "That is your red line. That is who is coming to Congress if Republicans prevail and get control of Congress. Given that state of affairs, do you think it would be better for the country if Democrats retained control?"
Neither Whitlock nor Finkelstein didn't explain where the nobility is in defending Trump's attempted insurrection.
Graham whined about this yet again in his Aug. 17 podcast:
Rep. Liz Cheney was clobbered by 37 points in her Wyoming Republican primary, but the media broke out their praises as she gaudily compared herself to Lincoln and Ulysses Grant. She's a savior of the Republic!

[...]

After the landslide, they asked Cheney if she would run for president in 2024, ignoring all proof that she drove her political car off a cliff. Savannah Guthrie repeatedly pressured Cheney to proclaim the Democrats should keep their majority power in Congress. They want her to sound fully like a Democrat. Democracy is only authentic and safe when Democrats win.

None of them seemed to figure out Republicans don't want to vote for Cheney when she's being painted as a hero by Dan Rather.
He too failed to explain why it's preferable to take Trump's side of corruption over Cheney's side of accountability.
Kevin Tober took up the complaining about praise of Cheney in an Aug. 18 post:
In news that will shock nobody, MSNBC's The ReidOut turned into another Republican bashing segment where a guest referred to the GOP as supporters of Fascism and the Democrats as supporters of democracy. Never mind the fact that the network spent much of Wednesday and Thursday wringing their hands over the defeat of Never Trump Republican Liz Cheney's landslide defeat for renomination. The leftist media only reveres democracy so long as their preferred candidates win.
Graham whined in an Aug. 20 post that it was pointed out that Cheney was effectively "disappeared" Soviet-style by her fellow Republicans for the sin of not loving Trump enough:
We know that liberal journalists have descended into a nasty habit of associating the Democrats with democracy and the Republicans with authoritarianism. But Time magazine took it its illogical dead end: Liz Cheney getting trounced in an election was some sort of Stalinist liquidation.

The headline was "The GOP Just Borrowed a Soviet Skill and Disappeared Liz Cheney." If you've been around a while, you know why this spin is funny. Time magazine made Mikhail Gorbachev the "Man of the Decade" and honored him as the "communist Pope and the Soviet Martin Luther." So maybe Liz Cheney is their Gorbachev now. Don't send her to Lithuania.

[...]

Except she wasn't executed! She didn't actually disappear! The liberals can't stop spotlighting her! Trump has a Politburo, like America is a one-party state. At least Elliott acknowledged "Her performance made her a darling of liberals who not that long ago thought the Cheney clan to be some of the worst people in America."
Graham again failed to explain why Republicans must jettison Cheney to cling to the corrupt Trump.
Tober returned to whine again in an Aug. 21 post:
Days after recently ousted anti-Trump Congresswoman Liz Cheney laughably compared herself to former Republican President Abraham Lincoln, ABC's This Week co-moderator Jonathan Karl took it a step further and compared Cheney to former President Theodore Roosevelt. The ahistorical idol worship didn't end there, USA Today bureau chief Susan Page suggested Cheney could have the same long-term ideological impact on the GOP that socialist Senator Bernie Sanders had on the Democrat Party [sic].
After first declaring Cheney the face of the "opposition to Donald Trump in this country," Karl turned to Page who happily noted how Cheney told Karl during an exclusive interview that "she'll be campaigning for some Democrats, who are running against election deniers" and gushed that Cheney "has the statute and the ability to raise money to have an influence on some of those races."
Grham spent his Aug. 24 column contradictorally whining that Cheney was being lionized for her crusade to hold Trump accountable while also insisting that Trump doesn't have a death grip onthe Republican Party:
Liz Cheney lost her Wyoming primary election by 37 points. But the concession speech didn't so much concede as announce a new crusade, a quixotic campaign to drag down Donald Trump in any way possible before the 2024 election.

When she lost, CNN analyst Nia-Malika Henderson accurately explained that her base was no longer in Wyoming. It's the "Beltway media." It's more than that — it inspires the Left from New York to Hollywood. They want to portray it as both impossible and irresistible.

Cheney's been raising millions from Democrats who want to stir up this campaign as another goad to Trump. Many Republicans would like to try a different flavor than Trump the next time around, but it's time to imagine that just as they've been doing in the midterm primaries, the Democrats deeply desire another run by Trump -- this time, the Trump that goaded on a riot and refused to concede defeat. They want him, damaged and angry.

The Democrats and their media partners like the narrative that Trump has a "death grip" on the Republican Party, because death is what they seek. They boast about how they are the saviors of democracy when what they really want is to shut the "ignorant" half of America up.

[...]

Cheney's defeat did not underline that Trump has full control of the Republican Party. It did show that Republicans have control of the Republican Party, no matter how much the liberal media and the Democrats want to run it.
Note that Graham isn't exactly running away from Trump -- his criticism is tepid at best because he knows that Trump does, in fact, control the Republican Party. He will sheepishly go with the GOP crowd and continue to support Trump, making a full public break only if his boss, Brent Bozell, orders him and the rest of the MRC to do so -- his paycheck depends on it, after all. But that's not coming anytime soon because Trump serves the MRC as a victim and because his views are those of the conservative movement.
Cheney has guts. Graham doesn't, nor does the rest of the MRC. And they know it.
Posted by Terry K. at 11:58 PM EDT
Updated: Friday, September 30, 2022 12:05 AM EDT